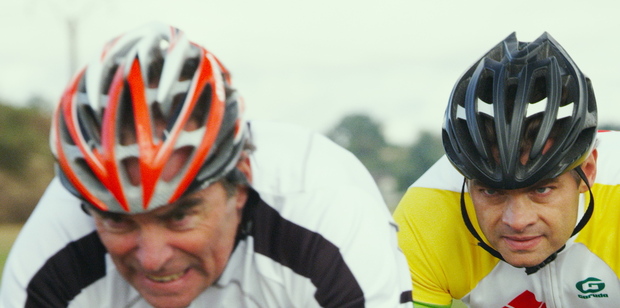 The slight problem with making a movie based on the Tour de France is the event itself is so damn cinematic.
Not only does it offer sweeping landscapes, it can also contain thrilling chases, occasional violence, oddball characters and, on a good day, drug use.
No wonder possibly the best Tour de France movie was the animated and quite mad The Triplets of Belleville from a few years back.
It's not really an event you could treat seriously and not bore those parts of the world who Just Don't Get It.
Tour De Force is how La Grande Boucle ("The Big Loop") has been renamed for wider release. Though "farce" might have been a better word than force, as this is a slight, knockabout French comedy about a guy getting a chance to bike the tour, realise his dreams, save his family, and make middle-aged blokes on bikes feel much better about themselves.
It does that quite neatly in its story of Francois Nouel (Clovis Cornillac). He's a keen cyclist and Tour fanatic who ditches a holiday with his wife (Elodie Bouchez) and teenage son (Paul Granier) when he gets the call-up to be a driver on the support team of his bike shop employer.
Wife and kid depart for the coast on their own while Dad mucks up his first day on the job and figures his only solution is to bike the route, one day ahead of the race itself.
In steps dubious disgraced cycling coach (Bouli Lanners, taking the drunken Gerard Depardieu role in this) and figures there's publicity mileage in Francois' commitment, which steals the limelight from the Tour's resident Italian champ (Ary Abittan) who sees the cause celebre amateur as a threat.
And so we're off on a happily contrived adventure with occasional detours for encounters with a French hip-hop star who's a closet Tour fan, despite it being the whitest sports event in the world, various real race veterans in cameos, a doping scandal and a decision for Francois on whether he should finish the ride or be a decent dad -- a point at which the film's momentum seems to run into a big muddy puddle.
Still it ends with a bit of tailwind and will leave cycling fans with the sort of warm glow otherwise achieved only by doing a spin-class while watching the peloton climb L'Alpe d'Huez.

Cast: Clovis Cornillac, Bouli Lanners, Ary Abittan
Director: Laurent Tuel
Rating: M
Running time: 98 mins
Verdict: Carbon fibre-light French cycling caper
- TimeOut