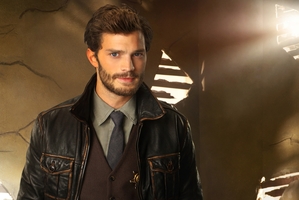 A former underwear model for Calvin Klein is set to swap Holywood, Northern Ireland, for Hollywood, California, after being cast as Christian Grey in the film adaptation of E.L. James' erotic novel 50 Shades of Grey.
Jamie Dornan, who dated Keira Knightley for two years and is best known to British viewers for his appearance in BBC2's The Fall, becomes the second British actor to accept the role.
Charlie Hunnam had signed up to play the businessman with a taste for kinky sex but dropped out this month after apparently being spooked by the hype surrounding the film.
Dornan, 31, auditioned last Friday and was offered the part over the weekend, according to reports in the United States. He will star opposite Dakota Johnson, the daughter of Don Johnson and Melanie Griffiths, who plays Anastasia Steele.
The film, produced by Universal and Focus, is to be directed by the British artist Sam Taylor-Johnson.
Dornan, who hails from the same small town as superstar golfer Rory McIlroy, dropped out of Teesside University to join the Select Model Agency, starring in campaigns for Calvin Klein, Aquascutum and Armani. As a model he worked with Gisele, Kate Moss and Eva Mendes. From there he moved into acting and won his first serious part when he was chosen by Sophia Coppola to play Marie Antoinette's Swedish lover Count Axel Fersen in her 2006 biopic of the French queen.
Dornan's biggest roles have been on television. In the US, he was cast as The Huntsman in ABC's fairytale drama Once Upon a Time. When his character was killed off there was such outcry that the producers wrote him back into a series of flashback scenes.
He also delivered a chilling performance as a bereavement-counsellor-turned-murderer in The Fall opposite Gillian Anderson this year. Dornan replaces Sons of Anarchy star Hunnam, the former Byker Grove star who went on to appear in Queer as Folk.
Hunnam and Johnson proved controversial with fans, with one petition to have them both removed reaching almost 90,000 signatures.
Dornan's casting appeared to be a more popular choice last night, with Girls star Lena Dunham tweeting: "I'm a monstrous @JamieDornan1 fan. Wasn't allowed to be attracted to him on The Fall bc he played a sexmurderer. 50 Shades is my big chance!"
- Independent