Metallica's new live-in-concert film also delves into dark fictional territory, writes Michele Manelis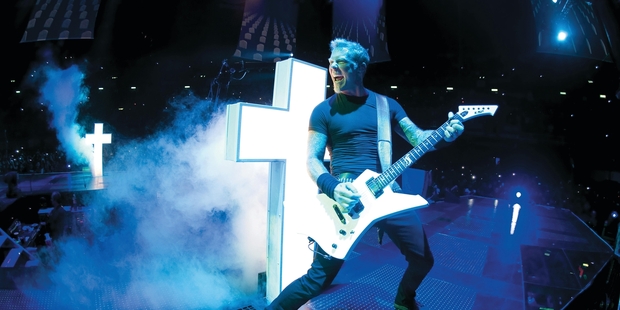 The first Metallica movie, Some Kind of Monster, showed them as a band on the verge of a nervous breakdown. The second, Through the Never, is a whole different kind of crazy.
It's big, it's loud and its story - yes, there is a narrative woven into what is essentially a live-in-concert movie - doesn't make much sense.
Director Nimrod Antal shot the band's performance in 3D and Imax and married it to a storyline inspired by Paolo Coelho's classic novel, The Alchemist. It stars Dane DeHaan (The Place Beyond The Pines) as Trip, a band roadie sent on a mission in the middle of their performance in search of a mysterious bag. He encounters surreal scenes of street riots, mass killings and a masked horseman.
"Marrying a narrative to concert footage was such a fresh idea, although other movies that danced on that periphery were The Wall, and The Song Remains the Same," says Antal. "But when Lars [Ulrich - Metallica's drummer] came to me with the 3D idea, I had big concerns, especially with a band like Metallica, which has an aggressive cadence to begin with.
I didn't want to traumatise the viewers or make them exhausted," he laughs. "Lars said to me, 'Who wants to see another rock star getting out of a limo? We don't want that. We want to do something different'."
Antal was born in Los Angeles but spent a lot of his formative years in Hungary and he began his career directing the Hungarian-language film, Kontroll, in 2003. He says he's a Metallica fan from way back.
"I had seven Metallica CDs at home and when I got the job, I remember standing in front of the CDs and thinking, I hope I won't want to throw these out at the end of the process. I knew the risk. Every time you get the opportunity to meet your heroes, more often than not, disappointment plays into that. But fortunately, I can sincerely sit here and say, I really like them as people. There was this immense trust they gave me. They handed their music, their legacy to me."
The results certainly aren't Some Kind of Monster II.
That previous film was acclaimed for its honesty and insight showing the dysfunctional group bringing in a psychoanalyst to sort out the relationship difficulties within the band, chiefly the one between frontman-guitarist James Hetfield and Ulrich. It also showed the troubled recording of 2003's album St Anger, a record that divided fans and critics.
Death Magnetic from 2008 might have marked a return-to-thrash-metal form, but 2011's collaboration with Lou Reed, Lulu, did neither party any favours.
But now Through the Never - which as well as a movie is a live album - finds the band in good heart, even if Hetfield and Ulrich both turn 50 this year.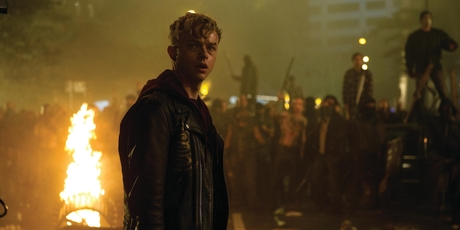 "If you would have told me 30 years ago that we'd be rocking out at age 50, nobody would have believed it," says Urlich.
"We're so appreciative of the fact that there are so many people, still on a global basis, who want to hear our music and so we've made it a conscious effort to try and look after ourselves," Ulrich says, gesturing towards his trim band members, lacking any evidence from their beer-guzzling days, which saw Ozzy Osbourne, no less, christen them "Alcoholica".
"We still deliver on stage, although now we have two people that travel with us whose jobs it is to stretch us, massage us and stitch us back together. But these days, we eat well, we sleep well, we travel well and we really take it seriously."
Interjects Hetfield:"Yeah, but we all have issues. Lars has problems with his arm, I have back problems, Kirk [Hammett, guitarist] has problems in his fingers and Rob [Trujillo, bassist] has bad knees."
Well, from watching their 92-minute screen opus, you'd certainly never know it. Antal and his 24 3D cameras filmed the band over five special shows in Canadian stadiums last year. Much of the frenetic audience are black-clad teenagers born long after the band first emerged from San Francisco in the early 80s.
Yes, the men of Metallica are now old enough to be dads to much of their fanbase.
"Yes, we're all fathers," nods Hetfield, grinning. "When we started out we all wanted the dream: to show up in a town, destroy and leave."
Ulrich adds, "And rape and pillage."
Hetfield sighs. "Yes, well that mentality we had in the early days got us in a lot of trouble. It was as simple as that. We destroyed hotel rooms because we'd heard that that's what bands did in the 70s. But now, being family men, we all lead two different lives. On the road, we live like kings. We're pampered and everything is done for us. When I come home, my wife points towards the kitchen and says, 'Look at that pile of dishes in the sink'. So I try not to be as pampered these days on the road so the transition isn't as difficult. But for all of us, family comes first and during the school year, we're not gone more than two weeks at a time. We are fathers first, and that's the most important gig we have to do."
Ulrich: "We lived a lot of crazy things in the 80s but the fortunate thing about us compared to a lot of our peers was that it was never sensationalised." He smiles. "We stayed under the radar, and bottom line is that we're still here. I guess it seemed to have worked out okay."
So, what's next?
Ulrich: "I hope we can still be doing what we're doing when we're 70 but we are not the Rolling Stones and, much respect to them, but what we do is a different physicality. I don't know if we will still be standing up when we're 70," he laughs.
"And the bigger question is, if we can't do this at 100 per cent, will the music suffer and will it become not worth doing? What if at 65 it becomes more like a parody? But for now we play each show like it's our last and every time we get offstage we have smiles on our faces. We're more appreciative of the fact that we made it through another one, because you don't know ... " he says, shrugging his shoulders.
"People keep saying that we're playing better than ever and we are definitely in better shape than we've ever been because we look after ourselves. As long as that remains, who knows how long we can maintain. Maybe we'll continue to surprise ourselves."
What: Through the Never, Metallica's in-concert movie with a difference
When and where: Opens for a limited season at cinemas today
Follow @nzherald_ent on Twitter for all the latest entertainment news.
- TimeOut