Barney McDonald discovers a rare breed of actor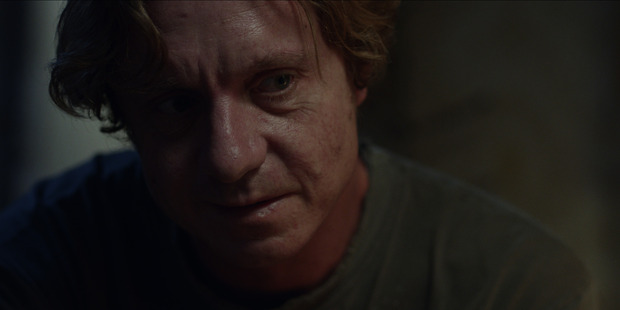 The actor focused on playing strange, intense, complex characters is a rare creature.
Emerging actors play what they're given, while established actors will populate their career with a generous variety of roles that illustrate traits like "range" and "likeability" rather than "depth" and "artistry". New Zealand actor Matthew Sunderland is a full-fledged member of the rare breed.
Over the course of a decade or so (minor roles and shorts notwithstanding), Sunderland has cemented his position as the casting directors' first choice of an actor to play troubled, unsettling characters with infinite shades of black and grey.
Whether it's a child killer, mass murderer, satanic Nazi or Wilberforce drone, he brings an arresting gravitas to performances that leave the audience in little doubt that this man senses the darker recesses of humanity and is courageous enough to explore them.
"It begins with the script," he says. "There's something within the story that resonates. It could be there's some aspect of the character you identify with, or alternatively you recognise an opportunity to go into unchartered waters."
Sunderland's latest role as Uncle Rory in Daniel Joseph Borgman's dual New Zealand/Denmark co-production, The Weight of Elephants, is a case in point.
The only adult male role model for his young nephew, Rory is in the clutches of mental health issues that force him to stay at home with his mother, who acts as Adrian's guardian. Rory exists under a long dark cloud but Sunderland allows the sun to peek through just enough for us to empathise with his plight, though there is no glamour in playing this role.
"With Rory, it was the chance to explore a character that, though very creative, had suffered a series of psychological implosions," he explains. "He's retreated back at the family home and is unwilling or unable to leave the house. This pretty much defines the concept of a 'shut-in'. It was a scenario that was familiar to me. I've seen it happen."
If there is another actor one could most readily compare to Sunderland it's London-born Sean Harris, who played Joy Division's Ian Curtis in 24 Hour Party People, serial killer Ian Brady in TV drama See No Evil: The Moors Murders and a deranged drug dealer in Michael Caine feature, Harry Brown. Harris doesn't shy away from ugly characters. He makes them flesh. And got picked up by Ridley Scott for a role in his Alien prequel Prometheus for his trouble.
"You can't help but admire someone who constantly commits themselves to dark, edgy material with such precision, focus and courage," insists Sunderland. "I remember watching him play Ian Curtis in 24-Hour Party People and thinking, 'Who the hell is that guy?' I guess we both inhabit similar sorts of roles."
Closer to home, Sunderland also admires an Australian actor who was on the cusp of international acclaim years ago, only to fall off the radar for a spell until being alighted on by Hollywood's edgier filmmakers in recent times. An exceptional performance in Australian drama Animal Kingdom in 2010 was followed by pivotal roles in Killing Them Softly, The Dark Knight Rises and, most recently, The Place Beyond the Pines.
"I've always been drawn to Ben Mendelsohn, ever since he started appearing in a bunch of Aussie films in the early 1990s," says Sunderland. "It's gratifying to see him nailing the sort of roles he's been getting lately and to see the calibre of talent he's working with."
Currently in the throes of acting against type in an Australian comedy called A Little Death, directed by Josh Lawson, Sunderland is under no delusions that his career will follow a similar trajectory to that of Harris or Mendelsohn. He's keen to step back to see where The Weight of Elephants, a co-production with Lars von Trier's renowned Zentropa production company, takes him.
"I'd love to work in Europe but I guess if there's one thing I've learnt it's that it's futile having expectations. Whatever will be, will be. Turn up, do the work, go home. That's my motto."
The Weight of Elephants is showing now.