A big-screen adaption adds another string to Lily Collins' bow, writes Michele Manelis.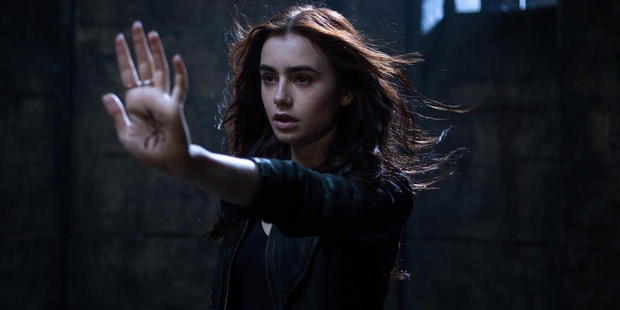 It's impossible to talk to Lily Collins without mentioning two very separate and diverse distractions; namely, her famous father, musician Phil Collins, and her much-discussed prominent eyebrows.
"The eyebrow thing to me is hilarious; it's really taken over and people talk about them constantly," she laughs.
"In fact, I've been described as Audrey Hepburn with Liam Gallagher's eyebrows. Now that is the weirdest combination I've ever heard of."
She adds, a little earnestly, "My mum instilled in me at a young age the idea that you don't judge a person based on what they look like; a person is a person."
The first time we became acquainted with Collins on screen was as a young girl in Academy award-winning drama The Blind Side in 2009. She followed with performances in Priest, Abduction and Mirror Mirror. Now, at age 24, she joins the ranks of Twilight's Kristen Stewart and The Hunger Games' Jennifer Lawrence as the heroine of a big-screen adaptation of a fantasy adventure series of novels.
"Yeah, it's all kind of nuts," she says in a resolutely Californian twang (she was born in Surrey).
"I don't think there's a way to fully prepare, plus I'm not worried. And honestly, I'm excited. Plus, I've got really good friends and family around to bring me back down to earth if necessary," she says. "I'm the same Lily as I was a few years ago."
The Mortal Instruments: City of Bones presents some obvious comparisons to Twilight. The story is centred on an interspecies love triangle that includes a dreamy British male lead, played by Jamie Campbell Bower, who has dangerous supernatural abilities.
Why does she think teenagers (and in many cases their mothers) are so devoted to these fantasy worlds? "Because they take you out of reality. There are alluring, sexy characters in a fantasy world that we all kind of think about or dream of," she says.
Collins and her on-screen love interest, Campbell Bower, are rumoured to be an item off-screen. They met at auditions and according to Collins, the connection was instant.
She laughs and blushes a little. "I think it proves that when you know, you know. Jamie walked in and didn't even have to do the scene. He's charismatic and, like the character, he's sarcastic and cocky, manly but sensitive and has that little lost-boy quality at the same time. A lot of actors don't want to show that vulnerable side but that's just who Jamie is, he doesn't have to act it," she smiles.
Collins left the UK at age 5 with her mother, Jill Tavelman, to live in Los Angeles following her parents' divorce. Like her character, she relates to the feeling of being an outsider.
"When I came to the States from London I was put into an elementary school where I was a complete outsider, and my accent made me even more of an outsider.
"I felt quite alienated, and at that age, of course, I just wanted to fit in. I don't like being on the outside, not for the purpose of being afraid of being alone, but I like to involve myself and kind of be active with people."
At college, Collins majored in broadcast journalism. A precocious teen, she wrote a column for British Elle magazine and contributed to Seventeen, Teen Vogue, and the LA Times. And when she wasn't filling pages with her writing, she was appearing in fashion glossies as an occasional model. "I'm a journalist at heart," she says. "I write every day in a journal, just stream-of-consciousness, but I use it in acting when I'm looking for character traits. I'm a genuinely curious person; I ask a lot of questions and I use my journalistic skills."
Despite her multimedia success and starry family background, Collins seems unusually sane. "I don't hang out with many actors. I still have friends from elementary school and my best friends are from high school and college."
She sounds a little world-weary when discussing being the daughter of Phil Collins, who started out as a child actor himself before becoming a rock star.
"Overcoming certain misperceptions has always been a big issue for me. I wanted to succeed in business because of my passion and not because of my last name. People think when you walk in a room that you're rocking in with an upper hand, but they don't realise it almost gives you a harder time," she insists. "They don't take you seriously."
"No one in my family ever made a phone call for me. I've gotten here on my own."
Who: Lily Collins
What: The Mortal Instruments: City of Bones
When: Opens at cinemas on Thursday
Follow @nzherald_ent on Twitter for all the latest entertainment news.
- TimeOut