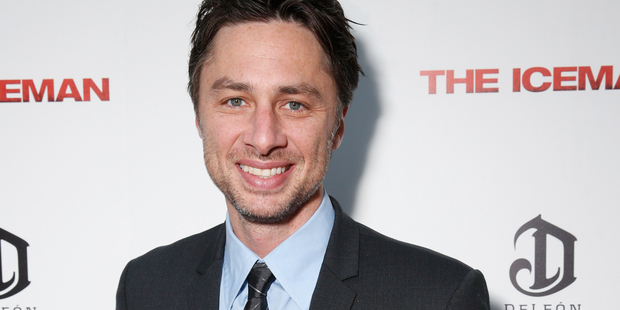 Zach Braff has raised NZ$2 million in a day after launching a Kickstarter campaign to fund a sequel to his hit movie Garden State.
The Scrubs and Oz: The Great and Powerful star is trying to emulate the success of the Kickstarter campaign for a movie adaptation of the TV series Veronica Mars, which raised US$5.7 million from 91,585 backers.
He has racked up US$1.7 million (NZ$2 million) in donations toward his film titled Wish I Was Here in just over a day. His goal is US$2 million.
The 38-year-old actor made his pitch for funding in a funny video featuring cameos from his former Scrubs co-star Donald Faison, as well as The Big Bang Theory star Jim Parsons and comedian Chris Hardwick.
He said: "I was about to sign a typical financing deal in order to get the money to make Wish I Was Here, my follow up to Garden State. It would have involved making a lot of sacrifices I think would have ultimately hurt the film.
"After I saw the incredible way Veronica Mars fans rallied around Kristen Bell and her show's creator Rob Thomas, I couldn't help but think (like I'm sure so many other independent filmmakers did) maybe there is a new way to finance smaller, personal films that didn't involve signing away all your artistic control."
Braff co-wrote Wish I Was Herewith his brother Adam.
Warner Bros, though initially hesitant to greenlight the project, eventually agreed to fund marketing and distribution for the movie if Thomas and Bell could raise the capital to make it.
- Bang! Showbiz