Being the son of a notorious director inspired Brandon Cronenberg's debut, writes Kaleem Aftab.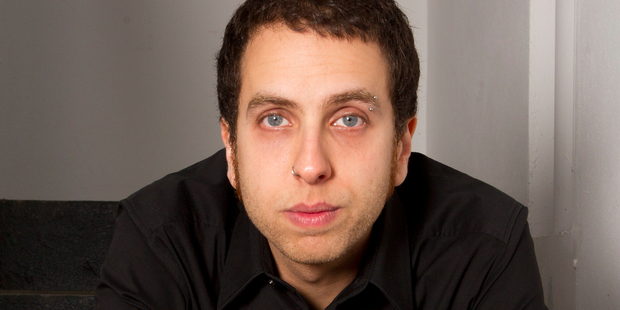 "He's my father, I grew up with him and I've been compared with him all by life," states Brandon Cronenberg, batting off the inevitable question about following his father, David Cronenberg - the bizarre brain behind such movies as Videodrome, Dead Ringers, The Naked Lunch and Crash - into the director's chair.
"That is one of the problems when you have a well-known parent; people are interested in that relationship, but it also got quite boring after a while and I didn't want to be defined by it. I'm just doing what is interesting for me."
Nonetheless, 32-year-old Brandon is not helping his own cause by following in his father's footsteps. It becomes all too easy to compare the two and, of course, it's the nature of celebrity that has us wondering what it was like for Brandon growing up under the aegis of Canada's best-known director.
He even admits that to a certain extent it's because he saw the celebrity of his father and his circle of friends that he was motivated to make Antiviral: "I definitely had some insight into celebrity, seeing my father and the other side of it and so I borrowed from that."
Antiviral even has a plot that could have come straight out of one of his father's movies.
Set in the near future, celebrity fascination has continued to balloon to the extent that a market has developed for the germs of famous people. When oddball Syd March (Caleb Landry Jones) injects himself with the germs of rising superstar Hannah Geist (Sarah Gadon) he becomes incredibly sick. Soon after, Geist is discovered dead and March has to race against time to find a cure for the virus.
Celebrities would often pop over to the Cronenberg family home for dinner. It was while the cutlery was at work that the young Cronenberg saw a disconnection between the public and private personas of the dinner guests and he began to question how the media report on those in the limelight.
"One of the things that is interesting to me, and I also have some insight into because of how I grew up, is how removed the celebrity as an entity is from the actual human being," says Cronenberg. "Celebrities are cultural constructs, they are loosely based on human beings and I think being able to see a human behind that construction has given me insight into how disconnected these fabrications are from the actual people."
Brandon himself seems like an awkward character, uncomfortable under the media spotlight. Dressed all in black, he seems nervous and sits on his hands to stop them flailing as he tackles questions. Growing up, he had natural enmity to following in his father's footsteps and, with an interest in books, he imagined he would be a novelist. Music and visual art, and cinema, seemed like a natural home for his talents.
The initial idea for the thriller came in 2004 while he was at film school, where Antiviral started life as a short film. Bedridden by a particularly bad case of the flu, Cronenberg remembers, "I started having this feverish dream and obsessing over the physicality of illness and the fact that I had something in my body and my cells that had come from somebody else's body and there was a weird intimacy to that connection."
The irony is not lost on Cronenberg that by making a film about celebrity, he is feeding the beast.
"Sure. But at the same time, film is a great way to discuss things and explore aspects of our culture. I mean the film is satirical and critical but it's not meant to just be a statement against celebrity culture. It's meant to be a discussion about it."
Who: Brandon Cronenberg, the directing son of film-maker David Cronenberg
What: Debut feature Antiviral
When: Opens at cinemas on Thursday
- TimeOut / Independent