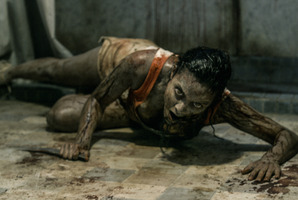 It was encouraging news a few weeks ago when the New Zealand-shot Evil Dead remake opened big at the US box office.
With horror films traditionally not hugely popular at the New Zealand box office (they often go straight to DVD), the relative overseas success of the film coupled with a local fan campaign has lead to the film receiving a small local theatrical roll-out.
I attended an early screening this week, and I was really looking forward to seeing if the film lived up to bold poster promise of being "THE MOST TERRIFYING FILM YOU WILL EVER EXPERIENCE".
The new Evil Dead film marks itself apart from the multitudes of other recent horror remakes by virtue of the fact that it was shepherded by the talent behind the original. Horror icon Sam Raimi, who directed all three original Evil Dead films before going on to mainstream success with blockbusters like Spider-Man and Oz: The Great and Powerful, produced the remake, along with original producer Rob Tapert and original star Bruce Campbell. The director is Uruguayan Fede Alvarez, who grabbed Hollywood's attention with his Panic Attack short on YouTube.
They all said ahead of time that they wanted to evoke the non-ironic scares of 1981 film with a pure unadultarated horror experience. So how did they do?
Well, I wouldn't say it's the most terrifying film I've ever seen, but it's definitely one of the most gruesome, and I spent an embarrassing percentage of the experience with my hands over my eyes.
The 2013 Evil Dead takes the framework of the original (five people at an isolated cabin accidentally unleash demons) and populates with different characters and an intriguing MacGuffin - they're all here so heroin addict Mia (Jane Levy from TV's Suburgatory) can go cold turkey with the support of her friends.
It's a pretty nifty set-up that satisfyingly explains why the characters don't all run away screaming when Mia starts acting all...demonic.
The last time Raimi himself directed a horror film it was 2009's Drag Me To Hell, which I consider to be one of the top five films of the last decade. It was my enthusiasm for this film that got me so excited for the new Evil Dead, and I'm happy to report that many of Raimi's horror filmmaking trademarks are in place - gleeful, cackling demons; a surfeit of liquid gru and of course the iconic "zooming through the woods" shot.
True to the filmmakers intentions, the film does not feature any of the black humour that defined Evil Dead 2 and Army of Darkness, rendering this a pretty dour tale. But that doesn't mean the film isn't fun, or even some degree of wit - I was pretty much entertained throughout, even when I was covering my eyes.
But while there's a couple of effectively-applied shock cuts and some great classic horror imagery, the dread didn't get under my skin the way it did in Drag Me To Hell (or The Orphanage or even The Woman In Black).
Getting under the characters' skin, however, is a whole lot of glass shards; some broken hyperdermic needles and an electric carving knife, among other items. This is undoubtedly the grisliest mainstream film since the Saw and Hostel franchises petered out.
Cheeks are carved open; multiple limbs are inelegantly severed and gallons of lumpy blood are spilt. My overall squeamishness meant I couldn't watch most of the harsher scenes, but the audience I was with seemed to enjoy those moments.
Some of the US reaction to the film has accused it of pandering to the 'gorno' trend typified by the above mentioned franchises. The nastiness present in this film often outdoes those movies, but I never felt like Evil Dead was quite as exploitative as the 'torture porn' accusation suggests - the harm here is all technically self-inflicted. It's amazing what demonic possession can justify artistically.
The exterior scenes were shot at Woodhill forest, but the only real indicator it was made in New Zealand is the brief presence of a few reconisable local character actors in the opening prologue. That said, the finale bloodily recalls one of Peter Jackson's finest splatter moments while also evoking one of the original Evil Dead trilogy's signature motifs.
The Evil Dead remake is a nasty little genre effort that ultimately favours shock over atmosphere. It wasn't the nerve-shattering triumph I had hoped for, but it's definitely one of the better horror films of late, and you should take advantage of the local theatrical rollout if you're into this sort of thing.
If nothing else, it definitely proves that this kind of film hasn't been rendered redundant by last year's awesome genre deconstruction Cabin In The Woods. And to answer the question posed in the title of this blog - Evil Dead is indeed very very evil.
It's box office success suggests a follow-up, but I just wish Raimi would stop mucking around and finally make a Drag Me To Hell sequel.
Evil Dead is currently screening at the Embassy in Wellington and will play at Queen St and Sylvia Park theatres from April 25th.
Are you amped for Evil Dead? Worried about the gore? No more horror blogs for at least a fortnight! Promise! Comment below!