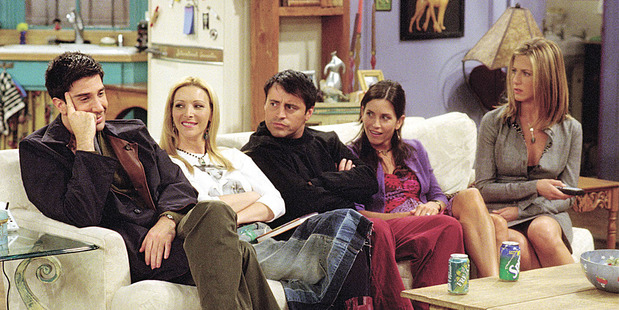 Ah, the internet: Propagating Friends reunion rumours since 2004.
Fans have been hankering for a revival of the hit TV sitcom for years, and for a fleeting moment there, it looked like their dreams might just come true.
The net was buzzing last week with an unsubstantiated rumour that NBC is planning to reassemble the Friends cast for a reunion, slated for November 2014.
Per the Examiner, the reunion buzz kicked off on Sunday, April 7, when Oklahoma radio station KHITS posted a photo to its Facebook page.
The station posted a pic showing the iconic orange couch from Central Perk, emblazoned with the words: "Friends.
The One With The Reunion. Thanksgiving 2014," and captioned "This is the best Sunday news, evar!"
The snap was subsequently bandied about online, and seemingly inspired a lesser-known website called starMedia to proclaim that "NBC network" had reportedly "confirmed" that it will "launch a new season of Friends in 2014."
"The rumour of a new season for Friends has been surrounding the web for months, but this time is more than a rumour! (sic)," the website noted in its unsourced report.
"NBC network has confirmed they will launch a new season of Friends on 2014, it will be about their story in a comeback reunion! (sic)."
The report cautiously added, "It's still unknown if the original actors will accept NBC's deal, but the dream of Friends reunion is closer than ever!"
Friends took a bow in May of 2004 after ten seasons, and featured Matt LeBlanc, Courteney Cox, Matthew Perry, Jennifer Aniston, David Schwimmer and Lisa Kudrow.
But here's the rub on the reunion chatter: Although there's been no official word from NBC, a network source tells E! Online the report is "not true."
A second network insider noted that a Friends reunion is something the network has "talked about," but that "no forward motion" has been made on such plans.
Vulture's Joe Adalian also wrote on Twitter: "WBTV confirms the FRIENDS revival rumour is...'not accurate and not true.' #Sorry #Duh."
'I'M GOING TO CLEAR THIS UP RIGHT NOW...'
According to E! Online, the show's co-creator Marta Kauffman has also confirmed that a reunion will never happen.
"I'm going to clear this up right now. No! Not happening," she told the website.
She went on to explain, "Friends was about that time in your life when your friends are your family and once you have a family, there's no need anymore.
"I'd rather people go, 'Oh, please! Please!' than 'I can't believe you did that. It was horrible.'"
This isn't the first time that rumours of a reunion have been quashed.
Back in November of 2012, Friends alum Matthew Perry took to Twitter to deny there were plans afoot for the cast to regroup.
"There is zero truth to this rumour. but Happy Thanksgiving Everyone!" he wrote in response to a follower who shared a fake promo image (yes, you guessed it, the same one that rebooted the rumours last week).
The show's co-executive producer/director Kevin S. Bright also told TV Guide in November that a reunion is not on the cards.
"There is absolutely, 100 per cent no talk about a reunion," he said. "Maybe they'll find a reason one day, and obviously the reason can't be about money and things like that. Other than that, I don't think there is a reason to do it. There will be no Friends movie."
Matt LeBlanc told EW.com: "That show was about a finite period of time, before you got married and went off to start your life with a family. It was that magical time that everyone can relate to.
"To see what we're all doing now... It's almost like the book is better than the movie. I don't want to see old Joey. I don't want to see Chandler and Monica with their kids that are [raising a hand a few feet off the ground] this big now. I'd rather imagine that," he said.
"Everyone's going to have different vision of what those characters are like, so to have that materialize is going to disappoint most people. A couple of people will go, 'That's what I thought!' but for the most part it's going to let people down. It's better to let them just think."
Aniston has also said she can't imagine a Friends reunion on the silver screen.
"I can't imagine how you would do it, unless you did it years from now. Then it would be: 'Who are these guys? What are we watching?' I can't imagine what that would be," she told The Hollywood Reporter in February 2012.
"It's not normal. Friends is in your living room: Friends is not in a movie theatre. It doesn't make sense to me. I think it would be going against its authentic self."
NOTABLE NUGGETS
And finally...
* "She's nuts right now" - Ciara reignites feud with Rihanna.
* Billy Ray Cyrus isn't sure Miley Cyrus will marry Liam Hemsworth.
* Selena Gomez slammed for wearing bindi at MTV Awards.
* Adele's Grammy speech crasher charged, could face jail time.
* Amanda Bynes posts bizarre Twitter video as she prepares for night out.
* Beyonce flaunts faux nipples at Mrs. Carter World Tour opening (as you do).
* Has Jennifer Aniston chosen a wedding dress yet?
* Britney Spears records new song for Smurfs 2 soundtrack.
* Check out Jamie Foxx as the villainous Electro on the Amazing Spider-Man 2 set.
* Russell Brand upset Tom Cruise won't recruit him for Scientology.
* Justin Bieber posts cartoon of nude cuddle with Belieber.
* Sorry internet, Rihanna isn't pregnant.
* Quote of the day: "I, personally, would be shocked if we went to the end of the tape now and I didn't have at least one. ... Look, even if I don't get one directly, eventually they're just going to have to give me one when I get old. So no matter how you slice it, I'm getting one." Robert Downey Jr. on his prospects for someday winning an Oscar.
* Kristen Stewart's Snow White and the Huntsman set for a sequel in 2015.
* Watch: Mad Men star Jon Hamm visits Sesame Street, joins Elmo for a sculpting session
Follow Myrddin Gwynedd on Twitter.
- Rumour Has It