Movie blogger Dominic Corry looks at the films that have been lifted by having a musician on board to write the score.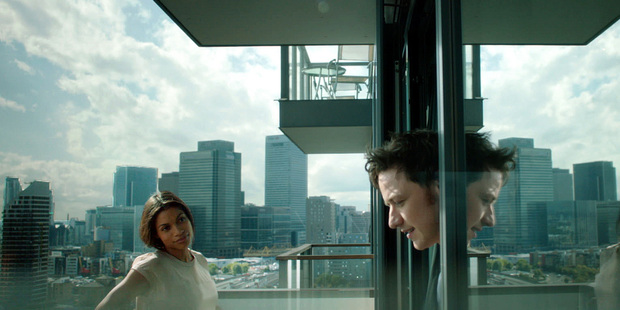 This week sees the release of Danny Boyle's amazing new film Trance, a heady thriller which is notably enhanced by Boyle's hyper-kinetic filmmaking and editing style.
Also contributing greatly to the delirious thrills of the film is the score by Rick Smith, better known as Underworld.
Boyle has used Underworld music before, most famously the track Born Slippy in 1996's Trainspotting, but this is the first Boyle film for which Smith is actually composing the score.
And what a score it is. It consistently evokes 8 Ball, the Underworld track Boyle effectively utilised in his underrated 2000 film The Beach.
The constant undermining of reality that buoys Trance is beautifully enhanced by Smith's undulating soundtrack, and it represents the culmination of a collaboration with Boyle that has now spanned five movies, one play (2011's Frankenstein) and one Olympic opening ceremony.
While movies have always relied upon popular music in soundtracks, Trance got me thinking about the times when a band or artist is hired to contribute music to a (live-action) film's soundtrack based on a perceived alignment with the material. It doesn't always succeed, but it can be very exciting.
One such example is the upcoming Tom Cruise sci-fi film Oblivion, a sci-fi adventure opening here next week. The trailer for Oblivion promises stark sci-fi visuals and an ethereal, brightly-lit tone. Which is why I'm so excited that M83 is composing the score, along with Joseph Trapanese.
M83's poppy synth perfection has been practically omnipresent in films and TV over the past several years, but this appears to be is the first time they (he?) is composing a score for a film. Snippets of the soundtrack have been released and all signs point to this being a very appropriate marriage of artist and material.
M83's soaring synthesizers and elliptical soundscapes have always evoked sci-fi vistas to me, and I am looking forward to seeing how they are applied within Oblivion.
Oblivion's director Joseph Kosinski seems to have a knack for this sort of thing, as he masterminded another seemingly perfect marriage of musician and material when he hired superstar French DJs Daft Punk to compose the score for his ultimately ill-fated Tron follow-up, 2010's Tron: Legacy.
Daft Punk were appropriate for the job to the point wjere they seemed to understand the Tron aesthetic better than Kosinski, who delivered a boring movie with an awesome score. The video for Derezzed, the Daft Punk single released for the film, is a cooler Tron follow-up than anything we saw in Tron: Legacy.
Radiohead's Jonny Greenwood ventured into the world of film scores with the 2003 documentary-of-sorts Bodysong. I've never seen the film, but the music is freaking amazing. He has since composed four film scores, two for Paul Thomas Anderson (There Will Be Blood and The Master). Truly, these are two kindred artistic spirits.
The 2002 adaptation of Nick Hornby's About A Boy co-directed by American Pie's Chris and Paul Weitz gained some degree of credibility by hiring English indie rocker Badly Drawn Boy (Damon Gough) to compose all the music for it, but I don't recall his soundtrack being particularly impactful.
Looking back a little further, Dire Straits' Mark Knopfler perhaps wasn't the obvious choice to compose the score for Rob Reiner's 1987 classic The Princess Bride, but he did a damn fine job of matching the movie's simultaneously reverent and deconstructionist approach to the fairy tale genre.
Legendary slide guitarist Ry Cooder has composed scores for films as disparate as the Richard Pryor version of Brewster's Millions (1985) and Walter Hill's Southern Comfort (1980), but the music he created for Wim Wenders' Paris, Texas (1984) is not only one of my all-time favourite soundtracks, it's some of the best music ever recorded.
Queen's contributions to the 1980 Flash Gordon soundtrack have arguably endured with more success than the movie - it's hard to deny the awesomeness of this pairing.
Paul Simon was commissioned to write songs for 1967's The Graduate, but only one was completed - Mrs. Robinson. The rest of the Simon & Garfunkel tracks used in the film already existed. So this only kinda counts.
Justin Timberlake is getting in on the act with an upcoming movie.
As that article points out, prolific composer Danny Elfman (Batman; Spider-Man; The Simpsons; a million other things) came from a pop background (in the New Wave band Oingo Boingo) but these days is more associated with his film scores, so he doesn't really count.
Amped for the Trance and Oblivion sountracks? What are you favourite examples of famous musicians scoring films? Which notable ones have I missed? Comment below!