Marion Cotillard talks to Michele Manelis about fame, family and her emotionally gruelling new role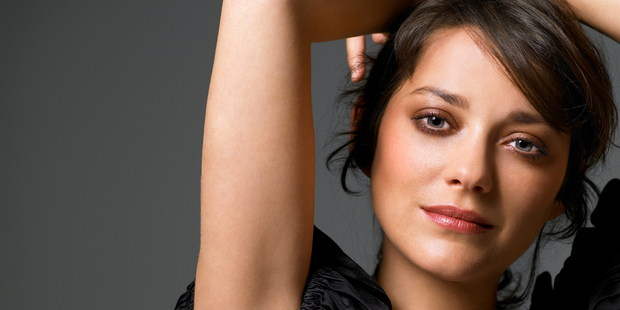 Without question, Marion Cotillard represents the Hollywood gold standard of beauty and sophistication, and this morning is no exception. She is clad in a head-to-toe Dior ensemble of an ivory-hued pencil skirt and shirt paired with nude Louboutin heels. Yet the Parisian-born actress, who won the Academy Award for Best Actress for La Vie En Rose, in 2007, is most famous for choosing roles that enable her to disappear in characters and mask her exquisite good looks.
"I was raised with the idea of beauty in a different way. To me, it is something that really comes out of you and surrounds you," Cotillard explains.
Of course, her sentiments are a little like Donald Trump claiming that money doesn't buy happiness, however, unlike most leading ladies, she's not precious about her beauty, nor does her livelihood depend on it.
Cotillard is at the Toronto Film Festival to discuss her French-language film, Rust and Bone, for which she earned Golden Globe and Bafta nominations.
An emotionally gruelling role, she plays a trainer of killer whales in a marine park whose life takes a drastic turn when an orca crushes her legs and she adjusts to life as an amputee.
Though the subject may not sound particularly sexy, Cotillard's character embarks on a journey of self-acceptance and in doing so begins a sexual relationship with a bouncer-turned-amateur fighter (Matthias Schoenaerts) that is both touching, and disturbing.
She says of the physicality of the role, "It's about love and flesh, heart and sex, rust and bone. And yes, sex scenes are very intimate and not my favourite thing to do, but without them, the movie would have missed something.
"I can imagine that when you're in that state it's really difficult to accept your body and accept that someone else will see and touch this body as it is." For the audience, watching her sans limbs is jarring. It must have been difficult for Cotillard to see herself that way?
"Well, first of all, I'm very, very hard on looking at myself in general, but it was kind of amazing to see myself like that. I was really impressed by the CGI," she says. "Actually, I like the last shot in the trailer which is my body naked without legs. I thought it was a beautiful image."
Cotillard was raised in a household heavily influenced by the arts. Her father, Jean-Claude Cotillard is an actor, an award-winning director, and a former mime. Her mother, Niseema Theillaud, is an actress and drama teacher. With this kind of thespian pedigree, was there any possibility she could have chosen a different career?
"Well, I could have never done a profession that was not creative."
She pauses. Her heavily accented words are expressed slowly and thoughtfully.
"You know, there's a fighter inside of me. When you have the capacity to fight, when you have the ability to love life and the ability to be happy, it's easy to be creative. And that's a treasure that my parents gave me."
She began her career in minor television roles in France and her breakthrough came in 2003 when she starred in the film, Love Me If You Dare, opposite French movie star Guillame Canet, with whom she would fall in love four years later.
Her life would change when she landed the role portraying Edith Piaf in La Vie En Rose, putting her on the fast track to an illustrious Hollywood career.
Looking back, she sees the humour in her deer-caught-in-the-headlights demea-
nour that could best describe her first foray into Hollywood.
"It was kind of scary. I didn't really understand how things worked in Hollywood. But I met some people, my publicist for example, who helped me stay true to who I am and stay myself."
She went on to land several top-tiered roles in movies such as Public Enemies, Nine, Inception, Midnight in Paris, and The Dark Knight Rises. Interestingly, her French contemporaries who have previously tested the waters, including Juliette Binoche, Sophie Marceau, or Audrey Tatou, all respected actresses who have starred in major films, never really took off in the same way.
Perhaps studio executives were more accepting of Cotillard due to her ability to speak with an American accent.
"I feel very lucky that I can work in Hollywood. When I was a kid, I watched a lot of American movies and I never thought this was something that would happen to me," she says.
"But once I started acting I didn't see any boundaries. I wanted to be an actress. I didn't want to be a French actress."
She's managed to maintain the best of both worlds; living in Paris and working in the US.
"I'm a traveller. I spend half the year in America so I like to be at home in Paris when I can." She and Canet have been in a relationship since 2007 and have a son who turns two in May.
As a new mother, naturally, her life has changed dramatically. "Yes, you need to organise yourself differently but I'm lucky that I can bring him with me to the set," she says. "The most important thing to give him is love."
As the face of Dior since 2008, Cotillard is expected to uphold her fashion icon status on the red carpet, which she's been busy treading of late as the recipient of numerous award nominations for Rust and Bone, though surprisingly she was snubbed for an Oscar nod this year.
"The red carpet is tricky. You have to be yourself, otherwise it looks weird and that's a very hard thing to do; you're in front of people who shout your name and take pictures.
"Photo shoots are different and I find that a lot of fun, but even those took a while to get used to. I always used to think I'd look like shit," she whispers. "I was not confident at all. Now I find that I can relax a little."
She finds the fact that her name is now synonymous with fashion a little amusing. "To be honest, I didn't consider fashion to be an art until I became involved with Dior. They changed my vision of fashion whereas I never paid attention to it before. Although I loved to dress and I liked clothes, now I see it as a very special form of art."
Up next is a joint collaboration with her husband, who is directing her in Blood Ties, with Clive Owen and Mila Kunis.
Canet previously directed Cotillard in Little White Lies in 2010. "He's an amazing director; he knows everything about acting and actors because he's an actor himself," she smiles.
It must present some difficulties - not only working with your loved one, but the often tumultuous dynamic as director and actor? She laughs. "It's complicated. You have to find the right balance, definitely. Otherwise, it's hell."
Rust and Bone opens at cinemas on March 28.