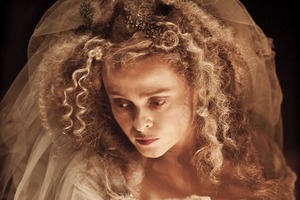 Of the five big-screen treatments given to Charles Dickens' penultimate novel (including a silent-era one and Alfonso Cuaron's ill-judged MTV-style 1998 update) only David Lean's 1946 version, rightly regarded as a classic, deserves to be remembered.
The newest attempt, plainly a work of good, even great, intentions, won't change that. Newell tips his hat to the master often enough (his opening shot is identical to Lean's) but the adaptation struggles to breathe.
Re-reading the novel a few years ago, I was struck by how extraordinarily funny it often is, but there's no lightness of touch here. The script by David Nicholls, who so brilliantly adapted Blake Morrison's And When Did You Last See Your Father?, is at its best when it reproduces Dickens faithfully - in Mr Hubble's condemnation of children as "naterally wicious", for example, or the rants by Mrs Joe (Hawkins is gone too soon).
But there's a head-spinning period of expository dialogue about three-quarters of the way through, complete with cheesy flashbacks, in which the entire interlocking series of conspiracies is explained, and it quite drains the life from proceedings.
Dickens' novel is "about" so much - class, money, power, betrayal, love, jealousy, loyalty, family - that it's a big ask to shrink it to two hours of screen time. You need to decide which thread you're going to follow and this version tries to have it all. It's an approach better suited to a multi-part TV version; here, it leads to logjams and sudden rushes.
This is not to say it's without merit: it's beautifully shot (though the exteriors are starkly overlit), the production design is fantastic and the matte work, which overlays studio scenes on modern London vistas is mostly effective.
The acting is patchy, though Fiennes is a superb Magwitch, terrifying in the opening, heartbreaking at the end and Robbie Coltrane is suitably inscrutable as Jaggers, the lawyer who knows all and says nothing. But Bonham Carter's Miss Havisham is all camp and mannered eye-rolling, without the sickly tragicomic grandeur she needs to be such a manipulator, and the unforgivably explicit ending betrays one of literature's great mysteries.
It's handsome and steady, but never striking - though it will answer all your questions if you never finished the book.
Great Expectations
Stars: 3/5
Cast: Jeremy Irvine, Ralph Fiennes, Jason Flemyng, Sally Hawkins, Robbie Coltrane Director: Mike Newell
Running time: 126 mins Rating: M (violence and content that may disturb)
Verdict: Patchy acting but handsome look