Former Scrubs star Zach Braff is a flying talking monkey in the new Oz movie. He talks to Russell Baillie.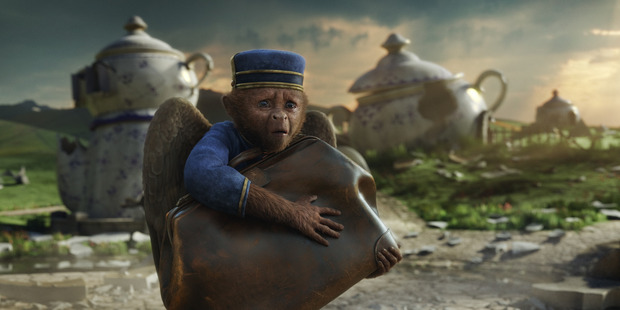 Firstly, your [2004] movie Garden State seemed like the start of something for you outside Scrubs. But you haven't directed a movie since ...
That's the flattering question I'm getting asked. I'm trying to do so much. I'm trying to be an actor, a writer, a director, a playwright. I had a couple that almost got going and then they fell apart for one reason or another, and I would take an acting gig. So years pass. I am really committed to doing it this year. I have a new script I have written with my brother and I am hoping to make my second one this year.
In Oz: The Great and Powerful, you are a talking monkey named Finley. How are you coping with that?
It's fun. I am sort of the comic relief, the monkey sidekick. It was a lot of fun to be a part of. It was an amazing cast and beautiful, stunning movie. It really was a no-brainer for me to do it.
Was it doing animated film Chicken Little that suggested you could voice a flying primate?
No, I think it was actually director Sam Raimi's wife, who was a fan of mine, and she suggested me.
I went in and met him and he started showing me some rough animation of what it was going to look like. He said, "I need someone who can improvise and riff with James Franco, who plays Oz". So I started watching the animation and started making up lines for the character and he started laughing. And I got the part soon after.
In the original The Wizard of Oz, the winged monkeys are scary. Is Finley any relation?
We must differentiate between the flying baboons. Those are the evil ones. I am sort of a friendly valet bellhop. I also play Frank, a human in Kansas. Just like in the original, people are different creatures in Oz and I become this flying monkey.
You are playing a talking primate in a James Franco movie that is a prequel to a very famous film. Did you call Andy Serkis for tips?
It's funny, James had just finished Planet of the Apes when we started and I said I never thought I would be able to say to an actor, 'I'm not the first CG monkey you've worked with, and the other guy you have worked with is the most famous for doing this'. I have a lot of big paws to fill. Though it's not motion capture - I was acting it out crouched down and there were three video cameras on me the whole time and the animator sort of animated off the video.
That must have been odd.
It was. He's 36 inches tall [90cm] and we figured that if I had my butt on the ground and hunched my back, that's 36 inches. I spent six months like that. A lot of the movie is about Oz learning this power of friendship, and Sam wanted this real friendship, so he didn't want James talking to the traditional tennis ball on a stick. He wanted me there whenever I could be there. It was good for James and I - we were really able to keep it organic. and not be stuck to the script.
As a cinema fan, did you have any qualms getting involved in a movie which is ... well, a prequel to the much-beloved Wizard of Oz.
I think everyone is pretty clear we are not remaking everyone's favourite classic. That would be a whole different story and I think that would be very dangerous territory, but in 2013 the technology is so amazing. We've got the production designer from Avatar, so let's go back and revisit this amazing world and tell a different story.
So what Sam did was go back to the L. Frank Baum books and tell a different story about how Oz landed there in his wacky world. It's such a cool world and with the technology of today and 3D, you can see it sort of makes sense.
Do you need to have seen The Wizard of Oz for this to make sense?
Is there anyone who hasn't? No, it's long before Dorothy, and the witches are all young and beautiful, so it dovetails nicely, but you don't need to have seen it.
Scrubs finally finished a few years ago, but it's still out there in the world on repeat. Do you trip over it now and then?
It's so amazing. Shows don't often syndicate as long as Scrubs has. It's found a younger generation on DVD and syndication.
It's become the M*A*S*H* of its generation. Which makes you Alan Alda.
I'll take that. He's had a dynamite career.
- TimeOut