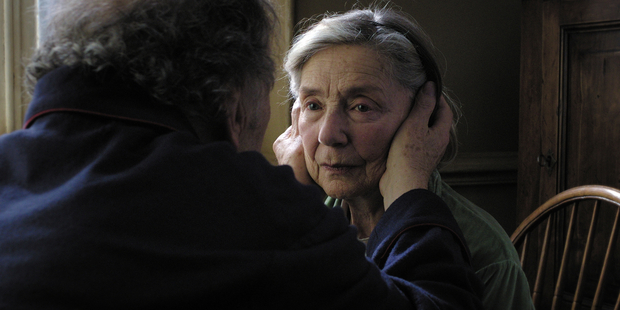 Nominated for five Oscars and winner of Best Foreign Film, this French drama is a thing of perfection - but it's very hard to watch. It could equally well be called Mort (Death) or Declin (Decline) as Amour (Love). Michael Haneke, the award-winning Austrian film-maker who explores the darkness in life, takes an unflinching, exacting look not so much at ageing and death, but at the brutality of the decline that can precede it.
At 80-something, retired music teachers Georges (Jean-Louis Trintignant) and Anne (Emmanuelle Riva) lead a pleasant, cultured life in Paris until a debilitating illness changes everything. As he courageously cares for Anne, Georges must watch his still-beautiful wife degenerate physically and mentally in the face of pain, incapacity, indignity and the soul-destroying loss of all that makes life worth living.
Almost the entire film takes place in the couple's apartment, with wide shots and close-ups framing some excruciating scenes, as when Georges feeds Anne tiny mouthfuls and a nurse showers her. Haneke is forcing us to confront these realities in real time. In his lens, there is great compassion and empathy, but also a visceral brutality in his refusal to gloss over the horror.
A masterpiece that will be too raw for some.
Stars: 5/5
Cast: Jean-Louis Trintignant, Emmanuelle Riva, Isabelle Huppert
Director: Michael Haneke
Rating: R13
Running time: 127 minutes
Amour is out now.