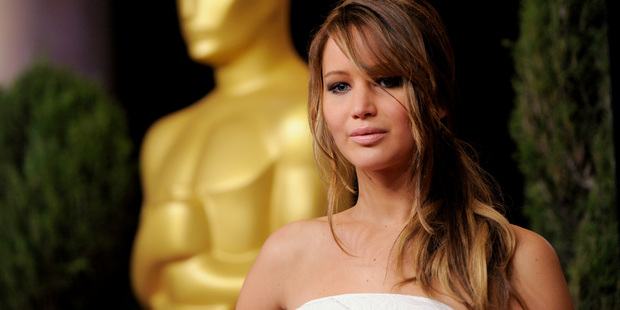 Jennifer Lawrence has scored a Golden Globe award and an Oscar nomination as best actress for her role opposite Bradley Cooper in the romantic tale Silver Linings Playbook.

Not bad for a 22-year-old, who has both rocketed to teen idol status by headlining the The Hunger Games film trilogy, but also won over adult audiences and picky Oscar voters - all within months.
"It's obviously exciting - it's like getting a promotion at work," she says of the nomination. "But I get anxiety over the parties and that's what it all essentially means to me - being surrounded by lots of people. It gives me anxiety just thinking about it."
Such apprehension isn't surprising given that just under a year ago the Kentucky native was sitting in the same Beverly Hills hotel, nervously on the brink of stardom and telling reporters she almost turned down The Hunger Games because she wasn't ready "to give up my life."
While relieved to have come through the other side, she notes that those initial fears about the sacrifices that would come with transitioning from independent films to studio blockbusters have been well-substantiated.
"I was right! But it actually, and surprisingly, has become wonderful. I feel so bad for [Gangster Squad actress] Emma Stone because she's where I was a few months ago. When it first happens it's horrible because your entire life flips upside-down and the entire planet starts treating you differently. It's really hard to adjust and get used to, but you kind of get through it.
"There are definitely bad days and good days, but overall it's good."
Fame is only going to continue to surround the star, who was also a Best Actress Oscar nominee for the 2010 indie film Winter's Bone. Even if she once again doesn't take home the statue, she has a string of major films on the horizon including the Depression-era drama Serena - in which she again stars alongside Cooper - X Men: Days of Future Past opposite Hugh Jackman and two more instalments of The Hunger Games.
In Silver Linings Playbook, which has received eight Oscar nominations including Best Picture, she plays Tiffany, a grief-stricken young woman suffering from mental illness, who forms a bond with Cooper's character Pat, an ex-teacher who comes home to his parents (played by Robert De Niro and Jackie Weaver) after a stint in a mental institution.
Lawrence admits she struggled to step inside the character's mindset.
"With a role like The Hunger Games, I read Katniss and she's just so solid and I understood her. I knew everything she would think, say or feel and in every situation I felt rock solid in her.
"With Tiffany I didn't understand one bit about her and that was part of the fascination. I didn't understand why she would say certain things and it's tricky because often she doesn't know where she's going to be at the end of sentence.
When she starts talking she doesn't know if she's going to end up shouting or crying.
So as an actor, not making a decision one way or the other and just going with it was a first for me and was really exciting and fun."
In what Lawrence initially saw as an added bonus to the role, Russell asked her to put on weight for the film, sparking a diet overhaul which saw her eating Philly cheesesteaks everyday, often in bed right before going to sleep.
Yet she struggled to gain pounds due to two hours of daily dance training with Cooper for the film's extensive dance scenes. Lawrence confesses her performance was so bad she had to dub over audio after filming was completed so that her character could acknowledge she's not a good dancer.
"I'm a terrible dancer. I'm awful - but I tried."
Silver Linings Playbook is playing now. The Oscars screen live tomorrow on Sky Movies from 2.30pm.