Julianne Hough is America's new sweetheart, a 24-year-old blonde ballroom dancing champion who has become one of Hollywood's favourite starlets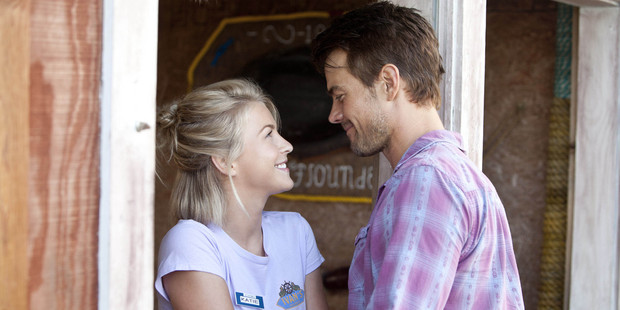 Usually when you meet Julianne Hough, the first thing noticed is her cute smile. But in the Four Seasons Hotel in Beverly Hills, Hough isn't smiling. She is convulsing.
"Honestly, I'm not sick," Hough, midway through a violent coughing fit, says. Her face is red. Her eyes have little tears. After a few seconds, finally, the coughing stops. "I don't know what happened," Hough says, offering that smile.
Hough says she isn't sick but, with the flu rampant in Los Angeles, a moral dilemma arises. She may be as sweet as apple pie, but do you shake her hand? "How about we touch elbows?" asks Hough.
She does more than touch elbows with her hunky co-star Josh Duhamel in the new romantic-thriller, Safe Haven, the latest love story penned by prolific author Nicholas Sparks.
Hough plays Katie, a mysterious woman who flees Boston, lands in the picturesque North Carolina coastal village of Southport and falls in love with Alex, a widower raising his two young children.
"Katie has this past that's pretty mysterious," Hough explains.
"Nobody knows who she is when she arrives in Southport. She meets a friend, Jo, and Alex and the two kids and she's guarded, but these people help her open up a little bit more.
"When she starts opening up, there's a connection with Alex, but they are both frightened and broken from what's happened to them in the past."
Hough was introduced to the American public in 2007 as a professional dancer on the US version of Dancing with the Stars. In her first season she won with Olympic gold medal speedster Apolo Ohno and backed it up the next season with car racing champion Helio Castroneves.
The Utah-born Hough used the fame generated from the show to score a record deal and her self-titled album debuted at No.1 on the Billboard Country Album charts.
She left Dancing with the Stars in 2008 to pursue a music career but soon Hollywood spotted her marketability, with roles opposite Cher in Burlesque, starring in the re-make of Footloose and last year's big-screen adaptation with Tom Cruise of the Broadway musical, Rock of Ages.
Adding to her profile, she has been in a relationship for two years with American Idol host and Hollywood mini-mogul Ryan Seacrest.
"I wouldn't say easily," Hough smiles when it is suggested she moved from dancing to music to film seamlessly. "It might look that way from the outside and we'll keep it that way, but it has definitely been a challenge. It took a lot of proving and was definitely a lot to live up to."
Like Katie, Hough has a dark past. When she was 10, her parents, who were divorcing, sent her to London with her brother, Derek, to live with ballroom coaches. It was not until recently she revealed she had been abused mentally and physically in the UK.
Hough refused to let the experience break her. "I'm a fighter. I don't take no for an answer."
Lasse Hallstrom, director of Safe Haven, discovered this first hand. Safe Haven would be her first non-musical role and Hough was desperate to be cast as Katie. "I have been turned down for a lot of jobs, but I felt passionate about this one," Hough said. "I called after my first audition and said, 'I need to go back in. I didn't feel great about it'. I wouldn't take no for an answer and finally I got in there and got that second audition."
Sparks, after selling more than 80 million novels and the film adaptations of his work earning more than US$1.5 billion at the box office, also took a step forward with Safe Haven. For the first time, he has a producing credit.
He liked Hough as Katie but the final decision was left to Hallstrom. "She had amazing chemistry with Josh. That was evident up front," Sparks said.
"The question was, 'We've seen her in Footloose and Rock of Ages. Is she going to be able to do anything like this?' Julianne knew she could, but did anyone else? We let Lasse make that decision. Lasse had a few conversations with her and came back and said 'Yes, she has what I need'."
- AAP
Safe Haven opened this week.