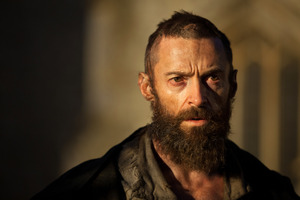 As another handful of celebrities settle lawsuits against Rupert Murdoch's newspaper company after having their mobile phones hacked, Hugh Jackman has come out in defence of the media magnate, describing him as "caring and thoughtful".
The Australian actor, who has received a first-time Oscar nod for his role as Jean Valjean in Les Miserables, says he is friends with the News Corp chairman and believes many people have the wrong impression of him.
"He loves having friends and family around.
"A lot of people in his life are there for a long time.
"He looks after them and appreciates them," he told industry magazine The Hollywood Reporter.
"He's very caring and thoughtful and incredibly respectful of everybody around him."
Jackman says he first met Murdoch in a family situation.
"[Murdoch's wife] Wendi and Nicole Kidman were very good friends. It was Nicole's birthday, and we all went to Soho House in New York, and we were in the pool," Jackman said.
"He was holding his daughter, and I was holding my son, and we became friends."
Murdoch even asked Jackman to be his daughter Chloe's godfather in 2003, the actor said. Jackman's fondness for Murdoch is not shared by dozens of celebrities who have sued News International after their mobile phones were hacked by staff at his former tabloid News of the World.
Former British royal Sarah Ferguson, musician James Blunt and singer-turned-reality TV star Kerry Katona settled cases at London's High Court this month.
They have accepted "substantial" damages.
Actors Hugh Grant and Jude Law, and singer Charlotte Church, have already settled their cases with the newspaper company.
The scandal erupted in 2011.
- AAP