'Pride & Prejudice' heroine such a loved character but Russian beauty far more removed, says actress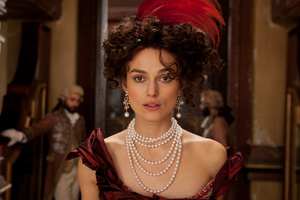 Both are iconic female characters, but Keira Knightley found playing Elizabeth Bennet more daunting than navigating 19th-century Russian society as Anna Karenina.
Both roles had been portrayed by other notable actresses, but Knightley says: "I think it was more frightening to take on Elizabeth Bennet in Pride & Prejudice because she's so loved and women see themselves as her.
"I don't think Anna is the same thing in that way ... She's this kind of strange curiosity, and because of that, because she's always slightly over there, I think it was less frightening."
But Knightley, 27, found that a decade's distance had changed how she viewed the character in Leo Tolstoy's novel about doomed love, scorn and scandal in an image-obsessed society. The first time she read it, she was a teen.
"I remember it as being this kind of amazing, beautiful romance and very sweeping, and I read it again last summer and went, this is really different.
This is not how I remember it at all."
The movie also stars Jude Law as her cuckolded husband, and Aaron Taylor-Johnson as the dashing cavalry officer who becomes the object of her desire.
At the Toronto International Film Festival in September, Knightley happily talked dancing, dresses and death. After all, Anna is a vain creature, a beautiful bird in a cage.
The heroine's face is, increasingly, masked by heavy lace netting.
"We wanted that constant feeling of being trapped," she said.
With Anna, Knightley's not sure whether to like her or hate her.
"I don't know if she's being held up there for people to go, this is the whore of Babylon, this is the worst thing in the entire world, or whether you're meant to go, this is the innocent, this is the victim. And the answer is both."
*Anna Karenina is in cinemas now
-AAP