In the fifth instalment of this action genre mainstay, fresh talent joins a favourite adrenalin junkie for a wild ride through Moscow. Michele Manelis reports.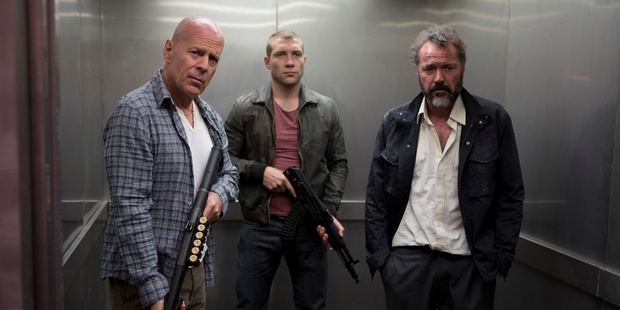 It was 25 years ago that Bruce Willis' wise-cracking cop, John McClane uttered his battle cry, "Yippee ki-yay, mother******". Now, in the fifth instalment of the Die Hard franchise, A Good Day to Die Hard, McLane takes the show on the road to Moscow in pursuit of his estranged son (Jai Courtney), whom he thinks has fallen in with a bad crowd.
However, as it turns out, McClane junior is a chip off the old block - a CIA agent. And though the storyline points towards Australian actor Courtney, 26 (who most recently appeared in Jack Reacher) to take over the franchise from Papa Willis, 57, the ageing movie star puts those rumours to rest.
"I'm not retiring. I'm just older," Willis says, giving his trademark smirk. "I'm not giving away the franchise at this point. I still appreciate the novelty of playing this character in five films over 25 years. And to still be asked back is fun."
Budgeted at a reported US$125 million ($148 million), this R-rated action movie is directed by John Moore (Behind Enemy Lines, Flight of the Phoenix), who takes great delight in demolishing much of the city of Budapest which is posing as Moscow, with elaborate car chases causing massive collateral damage.
"We set a few records in terms of car destruction," Moore smiles.
"But it was all in the name of making this so big and so wow. The action was designed to be this huge so that Bruce could react to how insane it was.
"My name's John Moore, not John Less," he adds.
Says Willis, "Yes, John was pretty insistent on making it all happen on the streets. The car chase scenes took over six weeks to shoot. I drove that big green truck through Budapest at pretty high speeds. They shut down some streets for me, and I drove like a maniac.
"The fun of Die Hard is that you get to go to real locations and drive real cars which are flipping and tumbling and you're jumping off of things," he smiles. "It's a fun thing to do for a living."
It doesn't sound like a job one considers after a certain age. But for Willis, the task at hand was less arduous than he had imagined.
"There were less limits than I thought there would be, although a couple of times I got up a little slower after falling down. But I don't think about that as age, I just think that I didn't quite land the right way."
In fact, it would seem Willis welcomes his advancing years.
"In 1988, when the franchise began, I didn't have any lines on my face and I'm happy to have them now. I always thought I had a little too much baby fat on my face and I didn't care for it. Actually, I couldn't wait to look a little more roughed up," he smiles.
"I'm pretty accepting about how things have turned out."
As he should be. The franchise has grossed more than US$1.1 billion at the box office worldwide.
As for casting the equally macho Jack McClane, Courtney beat out many big-name actors. But the Irish director says he didn't want anyone famous in the role.
"As soon as [Jai] walked in the door, I thought, 'He looks like how Jack McClane should look. God, I hope he can act.' Then I realised he could act. Then I thought, 'I hope he has a good sense of humour.' And then, finally, I thought, 'God. I hope he gets along with Bruce.' And he did.
"So for me, there wasn't a lot of process involved. Plus, the other great thing about him was that he didn't ask too many questions."
Says Courtney: "Of course, it's really easy to get rattled by an actor of that stature and I did catch myself a couple of times having an out-of-body moment where I'd be thinking, 'That's John McClane in front of me, and we're doing a scene together,"' he laughs. "But then you just get on with it."
What: A Good Day to Die Hard, the fifth in the Bruce Willis action franchise
When: Opens Thursday February 14
- TimeOut