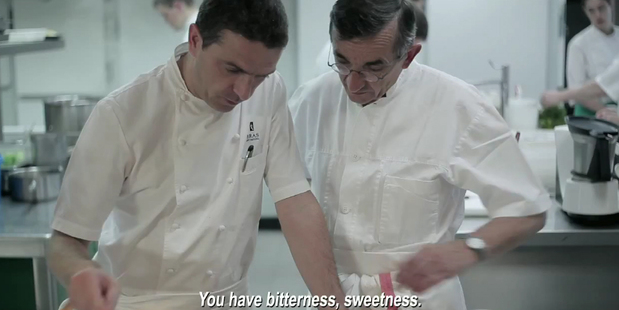 This film's original French title, Entre les Bras, is a rather lame pun: the phrase refers to the act of embracing ("in one's arms"), but the movie's subjects are renowned chef Michel Bras and his son Sebastian. The father is, little by little, ceding control to the son of his three-Michelin-starred restaurant, Bras, in the south of France. Thus it is passing between (entre) the Bras.
An ill-advised attempt to produce an equivalent pun in English is doubly regrettable, since it is really a movie about stepping down, not up. When Michel is not exerting his authority, we catch glimpses of him gazing lugubriously from the sidelines.
In between, we watch father and son argue creatively about new dishes, shop for produce, pick herbs. It's handsomely filmed, and makes a good addition to the Rialto chain's Films for Foodies programme, but it veers closer to the interminable, faintly obsessive El Bulli: Cooking in Progress than to the lyrical and luscious Jiro Dreams of Sushi. It may be tastier for foodies than fans of genuinely gripping documentary.
Stars: 3/5
Director: Paul Lacoste
Running time: 86 mins
Rating: G. In French with English subtitles
Verdict: For foodies
- TimeOut