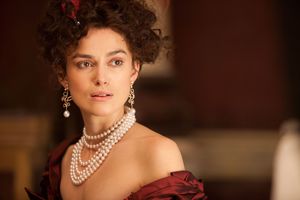 British director Joe Wright has had considerable success with adaptations of Jane Austen (Pride and Prejudice) and Ian McEwan (Atonement), so he's well-prepared to take on Russian novelist Leo Tolstoy's timeless Anna Karenina.
Wright has taken strong cues from the theatrical nature of Tolstoy's characters, setting most of his film on a stage in a large 19th-century theatre. The set moves to reveal new scenes and set-ups, with the action also taking place in the wings and lofty heights among the theatre ropes and pulleys.
It's fabulously choreographed, handsomely designed and so very clever.
But the challenge with such a highly stylised production, with characters swooping through scenes in a dramatic and, at times, farcical manner, is to make the story real enough for viewers to care about the fate of the characters.
The story begins with Anna (Knightley, in her third movie with Wright) visiting her heartbroken sister-in-law Dolly (Kelly Macdonald) to convince her to stay with her husband, Anna's charming but philandering brother Oblonsky (Matthew Macfadyen).
On her train journey home, Anna is introduced to Vronsky (Taylor-Johnson), a charming young cavalry officer, and an initial flirtation leads to an affair.
Knightley is a vibrant but initially reserved as Anna, the result of her suffocating life with her serious and respectable husband Karenin (Law). Vronsky unleashes a passion and joy in Anna that quickly turns to despair as she realises her husband can, and will, prevent her from being a mother to her child, or allow her to leave him to marry the man she loves. Although she manages these transitions well, it is hard to see past Keira Knightley, the actress dressed in amazing period costume, to Anna, a woman trapped by the social and moral codes of the day.
Minor storylines provide some relief, taking us outside the theatre and into the countryside, which is as much a breath of fresh air for us as for the characters. And just as the settings can quickly change from the enclosed theatre to open rural spaces, Tom Stoppard's script can flick from the overly dramatic to the flippant and farcical, especially with Oblonsky.
It makes for a wonderfully adventurous adaptation that is at times quite thrilling, but one which too often misses the mark. It proves difficult to see beyond the production tricks and acting to the heart of the story.
Stars: 3.5/5
Cast: Keira Knightley, Jude Law, Aaron Taylor-Johnson
Director: Joe Wright
Running time: 130 mins
Rating: M (sex scenes)
Verdict: A beautiful but distant adaptation
- TimeOut