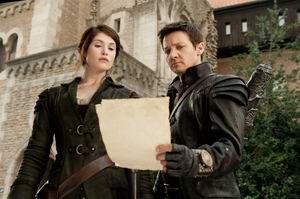 Norwegian writer-director Tommy Wirkola drags this Brothers Grimm fairy tale into the 21st century with a plot twist and genre mash-up.
Driven by a couple of punkish heroes, played with vigour and humour by Jeremy Renner and Gemma Arterton, it's mindless good fun, filled with blood-splattering violence which makes the most of 3D.
The film starts with young Hansel and Gretel in the woods stumbling across a house made of candy, and encountering a nasty witch who they escape by throwing in a fire - only to return home and find their parents missing. These bloodthirsty youngsters grow into wisecracking, trigger-happy witch hunters out for revenge on the world of witchcraft.
The plot, such as it is, unfolds with a few surprises - mostly to do with the mystery of their parents' disappearance. But those just get in the way of the action and the inventive methods the pair employ as assassins.
Renner looks like he's having a good time playing a hero with real attitude and sharp quips, and Arterton grows on you, especially when she head-butts her way out of tricky situations. It's enough to carry you along initially, but as the action slows and the one-liners grow more serious, not even Renner can convince us this is more than silly nonsense.
Hansel and Gretel: Witch Hunters ends with the suggestion that there is more to come. That seems overly optimistic.
Stars: 2.5/5
Cast: Jeremy Renner, Gemma Arterton
Director: Tommy Wirkola
Running time: 88 mins
Rating: TBC
Verdict: Mindless and bloody fun
- TimeOut