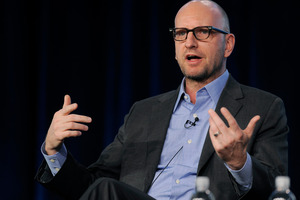 Director Steven Soderbergh is taking a step back from filmmaking to concentrate on his love of art.
In 2011 the Oscar winner announced plans to retire from the movie world when he turned 50, and after celebrating the milestone on January 14, Soderbergh says he's sticking to his promise to himself.
"It's a combination of wanting a change personally and of feeling like I've hit a wall in my development that I don't know how to break through ...," he told New York Magazine.
"And I also know you can't force it. I love and respect filmmaking too much to continue to do it while feeling I'm running in place."
But Soderbergh reveals he will have plenty to keep him busy after opening up his own art studio in New York City.
"It wasn't until I was older that I started looking at visual art closely," he says. "What's exciting is to feel at the very beginning of something. It's also terrifying starting from scratch, but panic has always energised me. It's the same process as anything: identifying who your heroes are, figuring out what they did, and then just going and doing it ...
"It's very basic right now: 'Can I make things look the way I want them to look...?' I go back and forth between portraits and abstracts. I'm not really interested in landscapes or still life. I'm more attracted to faces."
And he jokes he's even found inspiration in some of his former leading men and women: "I was sitting in an airport reading Us Weekly one day, and I realised all the hours of my life I'd spent reading tabloid magazines. I thought: 'I can't have wasted all that time!' So I spent six months building this six-foot-by-nine-foot collage of people on the red carpet. It was really fun."
- WENN