Ewan McGregor talks to Lydia Jenkin about his latest role as a Third World medical courier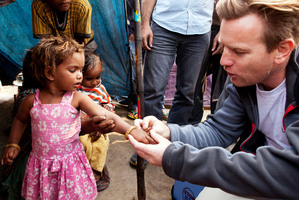 Not long after he finished Boxing Day tsunami movie The Impossible, British movie star Ewan McGregor found himself in some real danger.
He was bobbing about in a tiny plane, high above northwestern Nepal, about to land at Talcha, one of the most precarious airports in the world. There was another small plane just off the side of the runway, nose buried in the ground, tail in the air, the result of a crash a few weeks earlier.
"It's an airstrip that I will hopefully never have to land on again, it was so terrifying," laughs McGregor down the line from another, much safer airport in the US where he's about to board yet another flight, "I've never really been that frightened in an plane before."
Landing at Talcha came two weeks into his "cold chain mission" - a journey through India and Nepal, then the Republic of Congo.
Unicef ambassador McGregor's mission was to take a small camera crew to follow volunteers bringing vaccinations for children to some of the world's most remote regions.
The routes they take from urban centres to tiny villages are known as cold chains, because the vaccines must be kept refrigerated to stay viable.
Of course, that's a small challenge compared to, say, the 12-hour trip by motorbike and boat that it took the team to complete their first leg from Patna to Terasi, but the volunteers do these long missions on a regular basis to reach as many children as possible.
"Those kids have as much right to health care as anyone else. Their lives are hard enough anyway, without having to worry about polio or the measles. I didn't know much about the cold chain when Unicef first mentioned it to me, and I realised that by making our programme, just how important that chain is."
Good thing McGregor likes motorbikes. Of course, even though he's good at putting on a brave face, there were times when he was visibly overwhelmed by the situations they found.
"When we got to the last village in India, it was the first 'end of a chain' that I'd reached, and I kind of expected to feel a sense of celebration, to feel pleased. And there was an element of that, but more than that there was this terrible sense of seeing the condition that these kids were living in, you know, with no medical facilities, no clean sanitation; it was really dire, and quite overwhelming. And that is the reality, but it makes me so grateful that Unicef exists because they don't just put their heads in their hands, they go, 'Okay, what can we do about it?"'
On the flipside, there were some heart-warming, rewarding moments in the doco too. Having safely landed at Talcha, the team faced a two-day trek through the mountains carrying cold-boxes of vaccines to the tiny village of Luma. The landscape is breathtaking, and the welcome at the 600-year-old village was memorable - young workers showered McGregor in a cloud of dirt.
"The walk up in Nepal was something I'll never forget - it was pretty brutal in a physical sense, but it was so rewarding to get to that village. You can't really even imagine a place like that - that tiny place clinging to the side of the hill, it was just extraordinary.
"I actually got a really bad tummy bug there too," he recalls with much laughter.
"At the very end of the first episode, you see me saying goodbye to the little girl and her family, and her grandmother offers me this plate of green sloppy food and a bit of bread, and I felt I couldn't not eat it, so I did, and then I was so sick the next day, sick as a pig. Oh dear. And then the walk back was just a nightmare."
Despite the illness, he got straight on a plane to Brazzaville in the Republic of Congo, which came with a different set of obstacles.
Apart from the impenetrable jungle that surrounds the tiny village of Losso, when they did finally arrive, the situation was not as simple as in their previous stops.
"We definitely came across some strange situations to do with tribal politics ... and there's some really difficult social problems there. When that gets in the way, it's not easy."
Surprisingly, everyone the team encountered during filming was very receptive and keen to have their children immunised.
"They were arriving out of the jungle in their dug-out canoes with their kids, lining up.
"I think the reality of what happens if the children aren't vaccinated is very clear in their world, in a way that it is perhaps not so clear in ours.
"You hear about people who don't like to vaccinate their kids in the Western world, which I suppose is a personal choice, but when you're out there, the result of your children not being vaccinated is that they'll likely die, or be horribly maimed. So yes, I saw a real desire to have their children protected, and also a real understanding of it - I didn't seem to come across anybody who went 'What is it?' Or 'What does it do?' They all seemed to know about it."
You'd think McGregor might have had enough travel and time in front of a camera in his life as a film star - plus he has done this sort of thing before, with his two motorcycle trek series, The Long Way Round, and The Long Way Down.
So why does he keep doing it?
"I love it. I think it's a real privilege to be able to go and see this work happen, and I find that if I don't see it with my own eyes, it's quite difficult to talk about it and tell other people about it.
'I remember the first thing I did with Unicef was to talk at a children's summit about a Unicef project, but I hadn't seen it, and I found it really hard. I felt like a bit of a fake, in a way.
"So I find if I've seen it, it's a lot easier to be passionate about it, and to be able to communicate that to other people, and ultimately to try and encourage them to help. But it's also just a huge thrill."
Who: Ewan McGregor
What: BBC documentary Cold Chain Mission
Where and when: Living Channel, Sunday, 8.30pm
More info: unicef.org.nz
Also: The Impossible screening at cinemas now
- TimeOut