Naomie Harris is doing her British duty and serving as a Bond girl, but, she tells Roger Moore, some things have changed.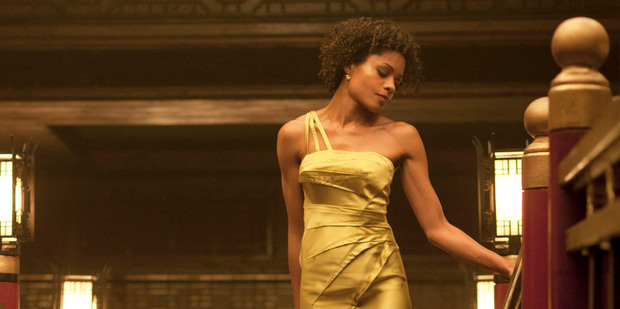 In her most famous big-screen role, the voodoo priestess Tia Dalia in the Pirates of the Caribbean movies, Naomie Harris wore grey, clay-lumped dreadlocks and the nastiest teeth this side of Oral B. But as Eve, fellow British secret agent and flirt to Daniel Craig's James Bond in Skyfall, she cleans up well.
"Bond babe" well.
"I have no quibbles with being a 'Bond Girl'," Harris, 36, says. With a proviso. "That's problematic, but it's also a great compliment. Bond girls are sexy and alluring and all that. But it's not appropriate for Bond women of today. We're characters, not stereotypes. Eve is very much Bond's equal - an agent, in the field. Firing guns. Driving like a madwoman. So 'Bond Babe' seems so antiquated in light of that."
Skyfall, the most critically acclaimed Bond film in decades, is earning Harris glowing notices, too, for the "both beautiful and brainy" (Entertainment Weekly) direction in which she and the filmmakers are taking the 50-year-old film franchise.
"This movie is about going back to the roots of Bond, getting the classic elements in," Harris says. "But we're modernising it as well. One thing I was happy that they wanted to bring back was the comedy, that dry British sense of humour. It's still a darker Bond, I think. But there's more of an effort to add laughs."
Harris, daughter of a Jamaican-born TV writer, is a native Brit who won't quite say it's her "duty" to serve when called to join Her Majesty's Secret Service. "But if you're British and you're an actor, it is a huge honour. It's so part of British culture that it made perfect sense to have James Bond escort the Queen to the Olympics. If you're British and you're an actor or are in the film business, it means something extra to have some part to play in making a James Bond film.
"So maybe it is a duty to do a Bond film. It is quintessentially a British story, British in character. I love that the film acknowledges that; that it's much more London-centric than other films."
Harris, 36, got her start on British TV after college and a stretch at Bristol's Old Vic Theatre School. Her first big screen break was in Danny Boyle's zombie hit 28 Days Later. She's mixed appearances in Hollywood films such as Street Kings with indie fare - Tristram Shandy: A Cock and Bull Story, The First Grader, Sex & Drugs & Rock & Roll. But none of that, not even spending time on the well-financed sets of the Pirates movies, prepared her for teaming up with Mr Bond.
"I never exercise. Terrible about it. For this, I had to do two months with a personal trainer, five days a week, two hours a day. I was on the gun range two days a week. I spent one day a week with the stunt trainer, doing kickboxing, combat training. I spent time in driving school.
"And remember the scene where I shave Daniel? I had to train with a barber for weeks just to get some shaving skills. I learned a LOT. Really got my money's worth out of this film. I could be an agent, now."
How many Land Rovers did she ruin shooting the film's first big chase?
"I did not ruin a one, I am very proud to say! I was an awful driver, prior to doing this. But being taught by stunt drivers, three point turns, slides, all that, I got to be a pretty good driver. Everybody keeps telling me how terrible I am in the movie, which isn't fair. I mean, so I knocked a few mirrors off. You only need the rear-view mirror, anyway, am I right?
"When you're going as fast as Eve does, nobody's hitting you from behind."
Whatever use she gets out of her shaving and Rover-wrecking skills in the future, Harris has followed Skyfall with another indie film, a role that was "the most challenging I've ever played". She plays Winnie Mandela, the controversial wife of South African president and civil rights icon Nelson Mandela in a film by her First Grader director, Justin Chadwick, co-starring Idris Elba as Mandela.
"Winnie was exhausting, harrowing, thrilling ... I didn't research Winnie until I got the role and the financing was in place and we were about to start. I terrified myself because I discovered her to be such a complex character. She's like seven people in one. Her journey is so dark and upsetting. People paint her in two different colours. Horrific things happened to her, and happened because of her. I really got to stretch myself and show the breadth of what I can do as an actress with that film. I cannot wait for it to come out."
Who: Naomie Harris and Judi Dench
What: Skyfall, the new Bond movie
When: Opens Thursday
- AAP