Forty-film programme to play at a dozen cities and towns around country.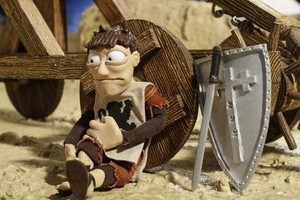 When a 15-year-old Kapiti Coast lad by the name of Peter Jackson made his first film in 1976, it screened on the kids' TV show Spot On.
Jackson's debut as director was a 20-minute Super 8 affair that used stop-motion animation to tell the story of four gold prospectors who walk through a warp in the space-time continuum (as they do), and the TV showing was the kind of exposure any professional film-maker would kill for.
But short film-makers operate below the radar much of the time.
The annual Show Me Shorts Film Festival represents one of their best opportunities. This year's 40-film programme will play at a dozen cities and towns from Matakana to Dunedin and at venues as disparate as a bistro in Rothesay Bay and a community cinema in Twizel.
Festival director Gina Dellabarca says this festival, the seventh, received a record number of entries and the programme has packaged them into "watchable" sessions of about seven films, each with a different theme: Comedy Corner, Explorers, Love & Other Catastrophes, My Hero, Nerds' Revenge and Unrestricted Access.
Local film-makers get the most generous share of screen time but there are films from Australia, the US, Spain and the UK as well as the initially linked trio of Ireland, Israel and Iceland. And if the films sent out on a preview disc are any guide, there's some good stuff in store.
The Icelandic zombie chiller Undying Love conjures great effects from a micro-budget and the final twist packs a deliciously nasty punch; 50 per cent Off Mail Order Bride is a cautionary tale for blokes who take women for granted; Cedric and Hope is a snappy piece of stop-motion animation about a medieval dweeb who has to harden up to get the damsel; The Dump is an understated but touching film about a father who is not as estranged from his son as he imagines; and The Velociteers tells you everything you ever needed to know about synchronised cycling in Grey Lynn.
What: Show Me Shorts Film Festival
When: November 1-11 Auckland region; other regions later www.showmeshorts.co.nz for details.