Susan Sarandon talks to AAP's Roger Moore about the different roles that have kept her career alive.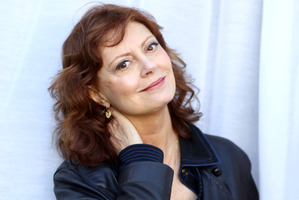 Susan Sarandon has always made it look so easy.
Generations of actresses launch careers and then flame out. Sarandon, 65, "transitioned" - from ingenue to leading lady to strong female lead to "cougar" to stellar turns as mums. Others come and go, Sarandon reinvents herself and endures.
"It's just managing to get the part you need when you need it," she says. "I just survived. I don't understand how I've stuck around, and I have no idea what to say when people ask me how. I've made plenty of mistakes."
Mistakes or not, this Oscar winner has always cleverly picked, or lucked into, roles that gave her a fresh lease on movie life. Though nobody plans a "cult hit" like The Rocky Horror Picture Show (1975), you've got to be a sharp cookie to see where Pretty Baby (1978) will take you.
"Some of those parts, thanks to the directors of the movies, have managed to become kind of iconic - important parts in the Hollywood history of women," Sarandon says.
"But that has as much to do with the zeitgeist of the moment as with me. Even Pretty Baby hit at a time when child prostitution was in the headlines and very much on the culture's mind."
Take Arbitrage, her latest. She plays the wife of a Wall Street hedge fund baron (Richard Gere) who has hidden an affair and vast financial wrongdoing from her. Melodramatic touches aside, it's a movie ripped from recent headlines.
"I feel a little bit like Zelig," Sarandon says, referencing Woody Allen's 1980s film about a man with the ability to blend into disparate situations, always on the cutting edge of history. "These films, a number of them, seemed to slip right into the consciousness of that moment in time. And when I went to London to do The Hunger (1983), I met (director) Tony Scott, and all these great English actors Americans hadn't heard of yet.
"When we did Thelma & Louise (1991), we had no idea it was going to be that big of a deal. It was just a cowboy movie with girls and cars instead of horses and guys. We knew it would be fun, and Ridley Scott (Tony's brother) was a fabulous director. But it caught a wave."
And Arbitrage, she thinks, has wave-catching potential.
"No one ever gets punished anymore for wrecking the economy. They never get in trouble, not when they're this rich. What's different about this film, as opposed to the other movies and documentaries I've seen about Wall Street people, addicted to power, gambling billions with the prospect of ruining everyone else's livelihood, is the family side of it. You get to see how this behaviour impacts their family, the wife, the daughter who went into dad's business and was betrayed. That's a new perspective."
Rising star Brit Marling (Sound of Her Voice) plays Sarandon's character's daughter in Arbitrage, and marvels at this "force of nature" she got to share scenes with.
"The test of any scene with any actor is 'How much can you live in this imaginary reality?' Are you there 50 per cent, 60 per cent? Acting with Susan, who is so there, so present and her character is so crackling with life that if anything is distracting you in the least, just looking at her will pull you right back into the moment."
Sarandon shrugs off such praise.
"Actors should just act, do what's fun, do stage, TV, film, whatever interests you. You can't be cowed by the idea that 'You can't play a mother. It ruins your sexuality, your sex appeal.' When you see yourself as a character actor, it's easy to see yourself as Jason Segel's mum or Richard Gere's wife. You bop in, have some fun with it, and bop out."
Smaller films, which she mixes in with studio productions, allow her to "push the envelope, in terms of my ego, and have the opportunity to work with people I don't know.
"Every film can be a re-boot of who you think you are, if you think of it that way. The worst thing that can happen to you is that you get complacent."
Who: Susan Sarandon
What: Arbitrage with Richard Gere
When: Opens at cinemas, Thursday
- AAP