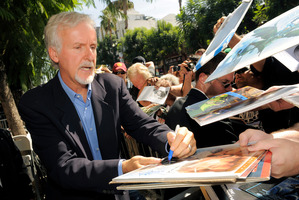 James Cameron, the world's most successful filmmaker, has lined up a new project.
Cameron will direct an adaptation of the novel The Informationist after completing work on a second and third sequel to Avatar, the highest-grossing movie in history, according to The Hollywood Reporter.
The book, by Taylor Stevens, centres on Vanessa Munroe, an African-born woman who grows up amid gun runners and mercenaries and becomes a private investigator who works to find the missing daughter of a billionaire.
The character was described by Cameron's collaborator, Jon Landau, as a cross between super spy Jason Bourne and Lisbeth Salander, the heroine of The Girl With the Dragon Tattoo.
Cameron bought the book's movie rights for his production company LightSpeed Entertainment and is expected to hire a screenwriter shortly.
"We were drawn to this book because of the terrific, compelling narrative and the character, who typifies the strong female protagonists that have inhabited Jim's (Cameron's) work," Landau said.
"Taylor Stevens' Vanessa Michael Munroe is an intriguing and compelling heroine with an agile mind and a thirst for adventure," said Cameron.
"Equally fascinating for me is her emotional life and her unexpected love story."
- DPA