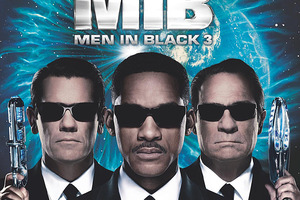 Forget about Will Smith and Tommy Lee Jones: The real star of Men In Black 3 is Kiwi comedian Jemaine Clement.
The Flight of the Conchords star excels as baddie Boris the Animal, stealing the show in this middling third sequel to the Men In Black series with his throaty growl, hulking presence and Gollum-like dual personalities.
The only problem is Clement's not in it enough, leaving a surprisingly lacklustre Smith, a typically grumpy Jones and the excellent Josh Brolin - as a younger version of Jones' Agent K - to fill in the gaps of the time travel-orientated sci-fi romp.
Men In Black 3 is entertaining enough. While lacking the laughs of its predecessors, it comes with a weak middle but strong ending, and the massive box office take guarantees there'll be a fourth film in the series.
But you can't help but wonder how it might have taken flight with a little more Conchord.
Extras: A gag reel, making-of featurette, Pitbull music video, TSpot the Alien game, a feature on the special effects, progression reels and several scene investigations.
Stars: 3/5
- nzherald.co.nz