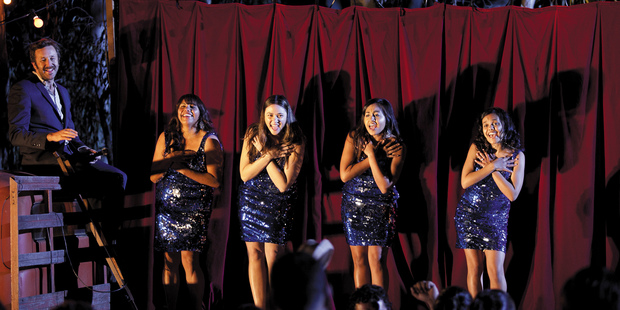 A charming, spirited Aussie tale filled with music, drama and comedy; and starring Irish comedian Chris O'Dowd, The Sapphires will be one of the feel-good hits of 2012. Though it may have screened at the New Zealand International Film Festival recently, its crowd-pleasing antics have a more mainstream audience in mind.
Inspired by the true story of three Aboriginal sisters and their half-caste cousin, who go from living in a remote mission settlement in Australia to singing for the troops in Vietnam in the late 60s, The Sapphires was originally a stage play, performed in 2005. Director Wayne Blair starred in the stage production, along with actress Deborah Mailman (most familiar to us as Cherie in TV's Offspring) who has retained the role as Gail in the film adaptation. Mailman and import O'Dowd anchor the film with their onscreen chemistry and engaging performances.
The Sapphires draws on the upheavals of the 60s, without letting the politics get in the way. It's the perfect setting for a story about four girls searching for a voice, an opportunity and a sense of belonging.
Gail, Julie (Jessica Mauboy) and Cynthia (Miranda Tapsell) sing country and western songs at the local pub. Their voices capture the attention of down-on-his-luck Irishman Dave Lovelace (O'Dowd), who convinces the sisters that soul music is their future, and promises to take them and their cousin Kay (Shari Sebbens) to great places.
Vietnam might not have been what they had in mind, but that's where they end up, entertaining the troops. It's a dangerous and entertaining adventure as they do their best to survive the frontline, falling in love and the inevitable family blowouts.
The Sapphires is far from perfect; the script is at times clunky, a few scenes would be more at home on stage than screen, a few characters border on cliche and the performances are variable. And though there's a sense that this film is a touch too ambitious for its budget, it has plenty of heart and soul in the spirit of the characters, the music, and O'Dowd's comedic touches. The Sapphires is hard to resist.
Stars: 3.5/5
Cast: Chris O'Dowd, Deborah Mailman
Director: Wayne Blair
Running time: 103 mins
Rating: PG (Violence, coarse language & sexual references)
- TimeOut