Movie blogger Dominic Corry investigates his favourite time travel movies.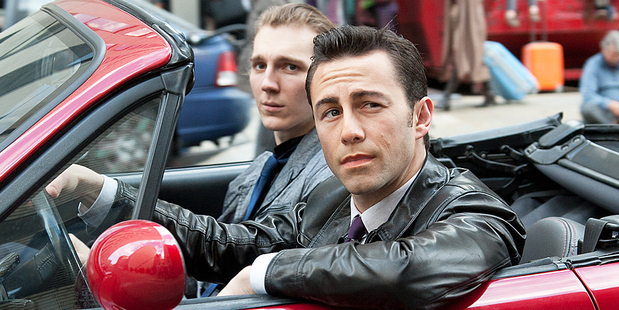 I'm a giant sucker for time travel movies. The wish-fulfilment aspect of seeing the future combined with the idea of righting past wrongs combined with the inherent danger of doing so makes for a heady combination of thrills and drama.
This week sees the New Zealand release of Rian Johnson's Looper, a thoughtful addition to the canon that nevertheless ended up being less about time travel than I'd hoped.
It's still very much worth seeing, but the experience of watching Looper got me thinking about the best time travel movies ever made, which I will now detail for your enjoyment.
In my opinion, there is no better time travel movie than Shane Carruth's 2004 masterpiece Primer. Carruth himself stars as an industrial engineer who along with some colleagues accidentally creates a time machine.
They set about using it for financial gain, but things naturally go awry.
The film is often frustratingly inscrutable, but Carruth maintains the answers are all on screen. What I love most about Primer is its grounded and pragmatic approach to time travel. It feels like a real-world approach to a fantastical situation.
There are no flashes of lightning or cars going 88 miles per hour in Primer. The time machine is a box in a storage facility. If you want to travel 12 hours back in time, it will take 12 hours sitting in the box to achieve it. A sense of doom permeates all of Primer, and make it as chilling as it is inventive.
Going far beyond the simplistic "I might never be born" quandaries presented by many time travel stories, the consequences in Primer are somehow equally devastating and incomprehensible. It is without a doubt the best time travel movie ever made.
There's been nary a peep out of Carruth since the film was released to critical acclaim and a slowly expanding cult reputation. IMDb says his next project is something called A Topiary, which presents the enticing logline: "A group of young boys comes across a mysterious box that holds magical powers." DOWN.
Coming a close second to Primer is Spanish writer/director Nacho Vigalondo's 2007 thriller Timecrimes, in which a hapless husband finds himself accidentally one hour back in time, and must scramble to maintain the status quo.
The awful circularity of fate is front and centre in Timecrimes, which plays out as a delectable puzzle box of a movie. It's nasty and funny in equal measure, and holds up on repeat viewings. David Cronenberg was briefly rumoured to be helming an English language remake at one point. That is a film I would see.
There's a recent German film called The Door that builds on Timecrimes somewhat, and is one of the better recent time travel films I have seen. Rising European star Mads Mikkelsen (A Royal Affair, Casino Royale) stars as an artist whose life crumbles after his daughter dies in a freak accident.
Years later he discovers a mysterious portal that allows him to go back to the day his daughter died and prevent it, but now there are two of him in this timeline, and that's a problem. I could only find a German-language trailer for the film, but it is well-worth seeking out on DVD.
While Groundhog Day is rarely referred to as a time travel movie, it qualifies on multiple levels, and I'm citing it here because its the only time travel movie ever made that chooses to focus on the mundanity of having to relive a certain time period. Groundhog Day takes this idea to its metaphysical extremes, and is all the more awesome for it.
Cinema's most famous time travel movies - the Back to the Future trilogy - are also amongst its best. While the first film is a bonafide classic, many filmgoers of a certain age (myself included) quietly prefer Part II, which to a pubescent boy contains all the potential glories of time travel in a brightly coloured package.
The first half of the film presents a future that conforms to every kid's wildest notions of what possibilities such a time could behold: Floating skateboards, flying cars, self-lacing shoes and shiny baseball caps.
We're only three years away from the future of Back to the Future Part II, and so far we only have the shiny baseball caps, but the world of 2015 that director Robert Zemeckis created remains wholly captivating, if not necessarily plausible.
One of the more under-appreciated time travel films around is the little-seen 1992 film Timescape aka Grand Tour: Disaster in Time, directed by David Twohy, a genre journeyman who went on to helm Pitch Black.

The great Jeff Daniels (The Purple Rose of Cairo, Dumb and Dumber) plays the proprietor of a small-town inn who comes to realise that his latest guests are in fact tourists from the future who have come back in time to witness a cataclysmic event. A family friendly adventure with some original ideas, Timescape is a great little nugget of a film.
George Pal's 1960 adaptation of HG Wells' The Time Machine must be cited on any list of time travel movies, and very much deserves its classic status.
But I always got frustrated with how the main character gives up on his own time so easily and launches himself hundreds of thousands of years into the future where humans have evolved into two separate species. The Eloi seem nice, but that's not what I would do if I had a time machine. The 2002 remake did nothing interesting with the material.
Mary Steenburgen, who played the love interest of a time traveller in Back to the Future Part III, performs similar duties in 1979's hugely enjoyable Time After Time, which stars Malcolm McDowell as HG Wells himself, who chases Jack the Ripper (David Warner) through time to 1979 San Francisco.
It's a high-concept story that works mainly due to the game cast. In one scene, McDowell makes references to the "Scottish restaurant" he just dined in - McDonalds.
It may be principally concerned with being as silly as possible, but I consider Bill and Ted's Excellent Adventure to be one of the best time travel films ever, if only because it sends Napoleon to a hydro-slide park called 'Waterloo'.
The film has aged remarkably well, and garners much mileage out of the century-hoping antics of its doltish lead characters.
I always struggled to connect with the Star Trek movies, but 1996's Star Trek: First Contact contains a great time travel story involving the Next Generation crew attending a significant moment in Earth's future history. Star Trek IV: The Voyage Home, which plops the original crew in 20th century America, is great fun also.
While the most recent entries in the Terminator franchise have run the concept into the ground, the first two films play nicely on the idea of changing the Earth's fate via time travel.
Does Woody Allen's Midnight In Paris count as a time travel movie? If so, I'd like to include that.
Twelve Monkeys is pretty awesome too, as is its inspiration, the late Chris Marker's 1962 short La Jetée.
I also really liked the time travel stuff in Harry Potter and the Prisoner of Azkaban, which holds up as the best of all eight films in my mind.
Other great time travel movies include: Triangle (2009), which makes for an interesting companion piece to Timecrimes; Donnie Darko (2001); Army of Darkness (1990); Planet of the Apes (1968 and Vincent Ward's The Navigator (1988).
* Agree? Disagree? What do you think are the best time travel movies ever? Is Time Bandits worth watching? Comment below!