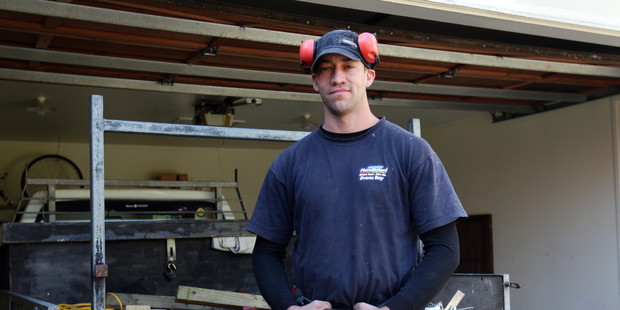 Budding film star Aaron Jackson nailed quite the double act last week.
On Saturday, he was working the red carpet next to Tommy Lee Jones at the world premiere of Emperor in Toronto, Canada.
By Wednesday, the day after flying home, he was back to his day job at a building site in Auckland.
Jackson's rapid ascent began when he was spotted by a casting agent on a Wellington building site in 2010.
At that stage, the only public speaking he had done was at his mother's 40th birthday party.
When he landed a speaking role opposite Hollywood legend Jones, who plays General Douglas MacArthur in the big-budget World War II film, it was just his fourth acting job.
The father-of-one told how he was so nervous the first time he had to act with Jones, that he forgot his lines.
"Tommy is at the top of the food chain, he's the biggest fish in the sea," Jackson said.
"I was really nervous and when the director said 'action' I went blank.
"Tommy yelled out 'Who's got the first line?' and the next minute it dawned on me.
"So for the rest of the production it became a running joke. It got a lot of mileage."
Jackson played a US marine in the film and learned how to salute and use a rifle during a two-month boot camp.
It was Jackson's build that first caught the eye of Tina Cleary from the Casting Company and ultimately led to the role. Cleary spotted his 1.9m, muscular frame and realised he had a physique that was in demand in movies.
She convinced him to do a screen test during his smoko break.
Once they got Jackson in the studio, it became obvious he had some acting talent.
"AJ's a natural," she said. "[It's] very cool that a builder from Wanganui can hold his own alongside Tommy Lee Jones because of his acting ability."
Jackson, who has also appeared in Rage, Tangiwai and Kiwi feature film Existence, said being flown to Toronto for the Emperor premiere was the icing on the cake. "It's just been the ride of my life since that one little smoko break."
Emperor, which also stars Matthew Fox and was partly shot in New Zealand, is set for general release next year.