Doug Conway discovers Scotland has a rich cinema history as a location for films like Braveheart, The 39 Steps and even a classic Connery James Bond flick.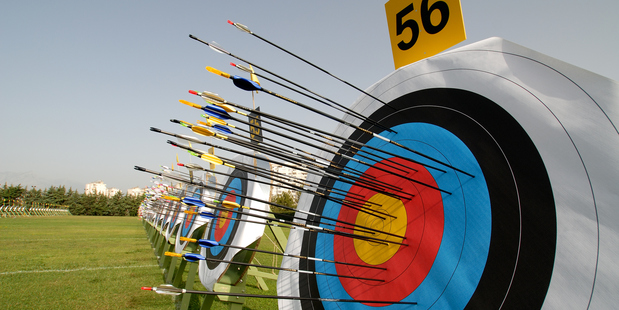 Archery is a bit like putting in golf. Your technique can be "wrong'' so long as it's consistently wrong. As a result, when you do succeed, you are never quite sure what causes the success.
That's the main conclusion from my first grapple with a bow and arrow in the Scottish countryside.
Inspired by the film Brave, I have chanced my arm at archery.
There are certain core principles to follow, as my instructor Callum explains at the Laggan outdoor centre near Dumfries in south-west Scotland.
They are: stand at right angles to the target, hold your left arm out straight (if you are right handed), close your left eye, bead your arrow in the string, draw your right arm back and up slightly for maximum power, use finger pads of right hand on bowstring, release as smoothly as possible. Pray.
The latter is an important step because you're trying to hit a target the size of a 50 cent coin from 10 metres away, drawing 9 kilograms of pressure.
Take comfort you're not pulling a longbow out in the fields, straining with up to five times the pressure.
But here's the weird thing. "Hardly anyone actually aims for the bull's-eye,'' says Callum. "People aim left, right, up and down. But so long as you are consistent in the way you shoot, you can always adjust. The highest score we have had here was by a guy the morning after his buck's night.''
In the animated film Brave, Princess Merida hits the middle of targets at full gallop on horseback.
"We cannae manage that but we've got a few wee sheep oot here you can try,'' offers Callum.
My nine-year-old daughter, a budding Merida who is having her first archery lesson with me, sensibly declines the opportunity of a gallop on the back of a ram, as does my wife.
We all do pretty well on the shooting range, scoring consistently in the 30s from four arrows. It's not too far short of the expectations of a good archer, in the low 50s.
We do especially well at bursting balloons tied to the target, which gives you a great feeling of bang for your bucks.
Our archery outing gets me to wondering how often films inspire people to do something or go somewhere.
Scotland, for example, has a rich film history for such a small country, and I'm sure millions are driven here by what they see on the big screen.
It might have been Mel Gibson in Braveheart, or the 1980s' hit Local Hero, or Robert Carlisle in Hamish Macbeth, which brought fame to the west coast fishing village of Plockton.
If you go back far enough, you'll find a lot of big stars have made films in Scotland, or with a Scottish theme.
Laurel And Hardy Visit Edinburgh was a hit in 1932. David Niven starred in Bonnie Prince Charlie, Michael Caine in Kidnapped, Gene Kelly in Brigadoon, Donald Crisp in Greyfriar's Bobby and Robert Powell in the umpteenth remake of The 39 Steps.
In the 1960s Miss Jean Brodie was in her prime and Sean Connery was Bond, James Bond.
JM Barrie made a motza by selling his classic Peter Pan to Hollywood.
And what about the "Harry Potter train'', the Jacobite?
In real life it leaves not from platform 10 3/4 to Hogwarts but from platform two at Fort William to the fishing village of Mallaig.
It runs beneath Britain's highest mountain, Ben Nevis, its most westerly train station at Arisaig and its deepest freshwater loch, Morar.
It also stops at Glenfinnan, where Bonnie Prince Charlie rallied his supporters for the unsuccessful rebellion of 1745.
But the moment everyone waits for is when it steams over the viaduct made famous in one of the Harry Potter films.
If you want to see where JK Rowling dreamed it all up you can do so with a visit to the coffee shop where she used to sit and write.
It's called The Elephant, and it's on the George IV bridge in Edinburgh.
Never underestimate the power of celluloid. After our trip, the first thing my daughter asked for was archery lessons.
IF YOU GO
Archery: Laggan outdoor centre in Dumfries and Galloway, on Scotland's south-west coast, offers instruction at indoor and outdoor ranges. Minimum age is eight indoor and 10 outdoor. Cost: £8 (about NZ$15.70) for half an hour, £14 one hour, minimum two people. The centre also offers clay pigeon shooting, mountain balling, mountain boarding, grass sledging and the UK's longest zip wire, spanning 820m.
Jacobite steam train: Fort William to Mallaig, runs between May and August. The two-hour trip departs at 10.15 and 14.45, with return services leaving Mallaig at 14.10 and 18.40. Fares: adult day return £32 , child £18 . First class adult £55 , child £30. Booking advisable especially in UK holiday season.
Further information: visitscotland.com; westcoastrailways.co.uk; lagganoutdoor.co.uk
- INDEPENDENT