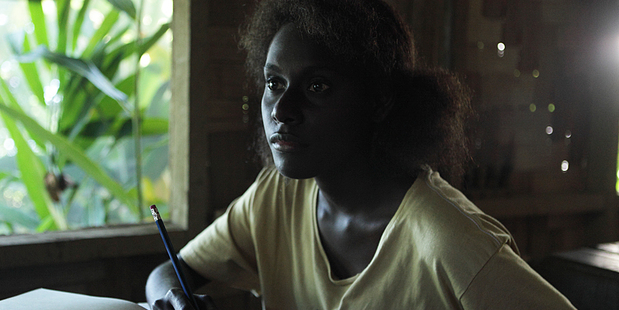 It received a standing ovation at the Toronto International Film Festival, but the film adaptation of Kiwi novel Mr Pip has been called "overblown" and "hamfisted" in its first major review.
House star Hugh Laurie plays Mr Watts, a teacher on the war-torn island of Bougainville who reads children Great Expectations, in the Andrew Adamson-directed film.
The book, written by New Zealander Lloyd Jones, was shortlisted for the Man Booker Prize in 2007, but Variety's review of the film adaptation was less than glowing.
Reviewer Dennis Harvey called it a "glossy package coated in orchestral syrup".
He said it was "overblown" and "reached for emotional effect in a fatally hamfisted fashion".
He ended his review by saying: "Most filmgoers will be left wondering what the fuss is about."
Said Screen Daily reviewer David D'Arcy: "It's ambitious, it's bloody and it's confusing."
"You get the feeling that the choppy sectioning of narrative parts came from an urgency to keep the film short - at 130 minutes. Had it been longer, or had it been a mini-series, more scenes would have made more sense."
Nikola Grozdanovic of indiewire.com praised Laurie's performance but said it "leaves you with the wish that Adamson would stick to fantasy - at least in that world there's some fun to be found".
"Mr Pip is a movie that looks like it belongs on TV, and not because of its small-screen star," she said.
Viewers at the Toronto International Film Festival were more positive, with AAP reporting a standing ovation during its screening in the special presentation section.
And Kerry Doole of Exclaim called the film "well-crafted and frequently moving".
Doole compared young actress Xzannjah Matsi, who plays 12-year-old girl Matilda in the film, to Keisha Castle-Hughes' performance in Whale Rider.
And an Iceberg Ink blogger said it was an "important film" that was "beautifully shot".
"I'd easily vote it as one of the best so far this year."
A local release date is yet to be set and no trailer has been released for Mr Pip.
- nzherald.co.nz