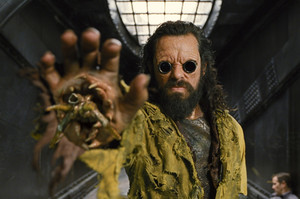 His Flight of the Conchords mate may have won the Oscar but this week belongs to Jemaine Clement, who stars in his biggest Hollywood role.
Following a string of small, oddball parts in recent years, Clement hits the big time as bad guy alien Boris the Animal in blockbuster Men In Black 3, which opens around the world this weekend.
Clement told TimeOut from New York, where he was attending the US premiere of the film, that starring alongside leading men Will Smith and Tommy Lee Jones wasn't too much of a problem.
However, he did have a few nerves about playing a ruthless villain.
"There's a bad guy in all of us but my concern was how bad a bad ass I would be," he said. "But then they put the leather suit on you, and I had these three-inch (7.5cm) high heels that made me infinitely taller than everyone else, and this scary make-up and you could see the way everyone was reacting to it.
"They were horrified, and they'd walk away. So I knew there was a bit of power there. That was good for the confidence."
The role of Boris is even more impressive given Clement is in the film almost more than original cast member Jones, who plays Agent K.