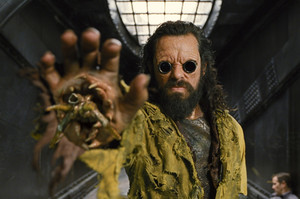 As Ghostbusters proved before Men In Black, combining sci-fi or fantasy genres with comedy is really a one-movie thing.
Turning it into a multi-sequel franchise means you've got to wait until the joke's funny again or for someone to come up with some new gags.
Case in point, a Ghostbusters III remains unmade and a Beetlejuice sequel - surely a remake would be wiser - is on the books.
Sure, Back to the Future got away with the comedy sci-fi crossover with time-travel.
Which may be why Men In Black 3 - arriving a less than urgent 10 years after part two - has gone for the chronological loop-the-loop. And it works, almost.
There's enough energy and spectacle to avoid thinking we're past an expiry date on the whole MIB idea.
But it sure sags in its middle section as it confusingly tries to join its first act (reportedly filmed before a completed script was ready) to its closing reels which involve a Very Famous Event in 1969 and wraps up the series in a surprisingly touching fashion for what started out as a ironic goofball sci-fi romp.
Will Smith's Agent J and Tommy Lee Jones' Agent K are still the undertaker-garbed odd couple working for MIB, keeping the Earth safe from the aliens among us.
When very bad ET Boris the Animal (Jemaine Clement) breaks out of prison on the moon and heads to Earth to avenge the loss of his arm, the partners are soon flying solo and Jones is largely pushed out of the movie to be replaced by his younger 1969 self, played to gruff near-perfection by Brolin.
Breaking up the old partnership at least has the effect of freshening things up. And while he's a bit of a scene-hogger, Smith's Agent J coping with 1969 results in some of the better gags of the film. Though a foray into Andy Warhol's Factory is way too clever for its own good.
Clement certainly looks brutally ugly under the prosthetics, but remains very well-spoken - Prince Charles by way of Mick Jagger? - but for a comedian, he doesn't get much chance to be very funny.
Particularly in the latter stages when the vertigo-inducing action combined with time travel trickery leaves no room for jokes, especially as two versions of Boris are involved in the final showdown.
Still, it's probably funnier watching the Flight of the Conchordian swaggering around as intergalactic nasty on this part of the planet, than anywhere else.
And for what it's worth the likes of Emma Thompson and a few other newbies barely figure after their introductory scenes, suggesting this sprawling flick sprawled even more before it got to editing.
In many ways, MIB3 is a better film than the amusing carbon copy that was MIB2.
It's just not a better comedy.
Stars: 3/5
Cast: Will Smith, Tommy Lee Jones, Josh Brolin, Jemaine Clement
Director: Barry Sonnenfeld
Rating: M (Violence)
Running time: 112 mins
Verdict: Bigger, bolder but not funnier.
-TimeOut