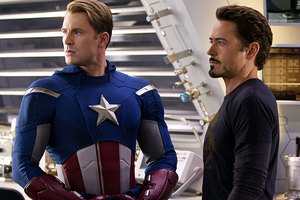 The Avengers has smashed through the US$1 billion (NZ$1.3b) mark in global box office earnings, after the record-breaking movie slayed its rivals again on its second weekend.
The comic book superhero blockbuster made $103.1 million over the weekend in North America, following its $207 million opening weekend, the highest-earning debut on record, said box office tracker Exhibitor Relations.
Globally the high-thrills Disney action adventure movie, directed by cult favorite Joss Whedon in collaboration with Marvel Comics, has made $1,002,082,000, according to industry website IMDb.
The success of the movie - made for an estimated $220 million - will help mitigate Disney's huge $200 million loss on sci-fi fantasy film John Carter in March, which prompted the departure of Walt Disney Studios boss Rich Ross.
The Avengers, a superhero band including Iron Man, the Incredible Hulk, Captain America and Thor, pounded Tim Burton's new Johnny Depp vampire flick Dark Shadows, which earned about $29.7 million in its debut weekend.
Romantic comedy Think Like A Man slipped into third place earning $5.8 million.
Smash action hit The Hunger Games was in the fourth spot in its eighth week on the big screen.
The movie, starring Jennifer Lawrence, earned $4.5 million and has raked in more than $387 million since its opening.
In fifth place was tearjerker drama The Lucky One, an adaptation of a Nicholas Sparks book starring Zac Efron of High School Musical fame as a US soldier back from Iraq.
The movie made $4.1 million in its fourth weekend.
- AFP