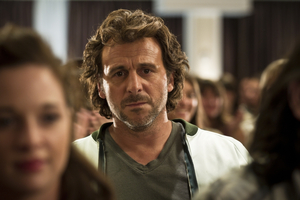 Suddenly discovering you have a child would be an overwhelming experience for most men, so imagine discovering you've fathered hundreds of children, and that a good number of them want to know who you are.
This is the rather outlandish dilemma facing David (Huard), a 42-year-old slacker living the life of an irresponsible adolescent in this slapstick, feel-good French Canadian comedy.
With a pregnant girlfriend, a dead-end job and an overdue loan from a gang, David finally sets about sorting his life out. His newfound maturity is challenged somewhat when he discovers he's a sperm bank legend.
A prolific sperm donor in his 20s, David learns he's fathered 533 children, of whom 142 are legally trying to discover the identity of their biological father, known only by the pseudonym Starbuck. David is intrigued and begins to seek out his "children", but rather than telling them he's their father he takes on a more guardian angel role.
It's a crazy idea, although recent newspaper articles about the success rates of real life sperm donors makes it less surreal; I doubt the real fathers' reconciliations with their biological children would be as warm.
Though debut feature director Ken Scott pushes the premise to its preposterous limits, he keeps it on track by always retaining the heartfelt and sweet manner of his lead character. While David begins as a frustrating loser making lousy decisions the film hits a turning point when we learn the reason for his frequent flyer status at the local sperm bank and from here it's impossible not to wish the best for this man-child.
Scott wraps up David's problems a little too easily so it makes for a syrupy conclusion, but a heartwarming one as well.
Stars: 3/5
Cast: Patrick Huard, Julie LeBreton
Director: Ken Scott
Running time: 103 mins
Rating: M (violence, offensive language, drug use and sexual references)
Verdict: A quirky little charmer
Check out the trailer for Starbuck here:
-TimeOut