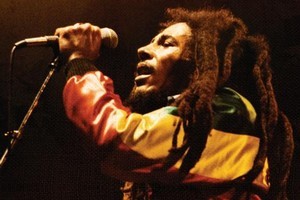 The trailer for a new film covering the life and high times of reggae legend Bob Marley has hit the net.
That, and plenty of other cool things, features in our wrap of the 10 best links on the web today.
1. He's the biggest reggae artist ever, and now he's got his very own documentary. So drag out your Bob Marley compilations, roll your dreads with some surf wax and get skanking along to the trailer for new film Marley, the "definitive life story of the musician, revolutionary and legend". It's from The Last King of Scotland director Kevin McDonald, and it's due out in April. (Apple)
2. Here's a choice little short feature film from a new batch of ace Media Design School students. You can almost see the blood, sweat and OOS in Dr Grordbort presents: The Deadliest Game, a sort of Jurassic Park-meets-Dr Seuss dinosaur adventure.
Expect a call from Weta Workshop very soon, guys.(Facebook)
3. Light up a cigarette in your office (don't do that), hit on the office secretary (don't do that either) and make inappropriate remarks to the office intern (that's probably okay, but don't hold me to it) to prepare for the Mad Men season five trailer. Don Draper is back on March 25. (YouTube)
4. If you're a fan of animal documentaries, you'll probably love the new video for Polica's Amongster. There's no David Attenborough, but there's plenty of lingering slow-mo animal attraction action. Try saying that 10 times fast with a mouth full of muffin. (Pretty Much Amazing)
5. A trailer for the new documentary Wonder Woman: The Untold Story of American Superheroines is out, in which superhero freaks and geeks detail the affect the caped crusader had on their lives. (AintItCool)
6. If you're into a bit of atmospheric post-grunge rock, check out the album stream for School of Seven Bells' Ghostory. Album's out February 28. (Consequence of Sound)
7. New Blur song! New Blur song! New Blur song! But is Under the Westway any good? You be the judge. (Pitchfork)
8. When Kid Cudi released his hit song Day and Night, he also recorded Dose of Dopeness, a track which hasn't been released in full till now. Got that title right. And check out a preview of his new side-project WZRD here. (Pusha T)
9. Do two wrongs make a right? In this case, yes. Check out the children's trailer for The Phantom Menace with hilarious voiceover featuring gems like, "Hey wait, a double-bladed light sabre? That's not fair." Still doesn't make me want to watch that sci-fi snore-fest again. (YouTube)
10. Got a child under five? Then for his next birthday you have to make Lorax cake sticks. It will only take you three days or so and you'll be the best parent ever. (Twitter)
* Seen anything worth sharing? Post your own links below: