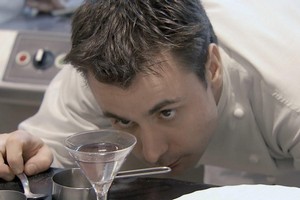 Movies
We will sadly never get to eat at what was consistently voted to be the world's best restaurant, as it's now closed. But a new documentary this week will get you pretty close. In El Bulli: Cooking In Progress, German documentary film-maker Gereon Wetzel gets up close with extraordinary culinary artist Ferran Adria. For six months of the year, the renowned Spanish chef closed his revered restaurant El Bulli and worked with his culinary team to prepare the menu for the next season, and this elegant and delectable documentary follows the developments.
Also opening is spin-off prequel Puss In Boots - with Antonio Banderas reprising his role as the boots-wearing, swashbuckling cat from Shrek, joined by Salma Hayek, voicing Kitty Softpaws, and Zach Galifianakis voicing Humpty Dumpty.
And then there's Faster - the fast-paced motor doco narrated by Ewan McGregor which follows the 2010 MotoGP season and rider Valentino Rossi's journey to claim his 10th world title.
Television
Soho continues to roll out the TV treats this week with the beginning of Mildred Pierce. This five-part HBO mini-series is directed by Todd Haynes and based on James Cain's book and the acclaimed 1945 film noir which starred Joan Crawford. It takes the 1930's story and brings it into colour, with Kate Winslet, Guy Pearce, and Evan Rachel Wood in the tale of a middle-class housewife's attempts to impress her daughter and improve her family's social standing during the Depression.
Music
There's plenty going on this week besides the behemoth Foo Fighters gig on Tuesday night. Before then, there's the BaseFM Christmas Party at the Kings Arms on Saturday with Alphabethead, @Peace, Scratch22 and more, and Australian folk troubadour Jordie Lane will be making his second Auckland appearance with an intimate gig at Tabac on Sunday.
Or if you're overwhelmed by all the festive carry-on in town, might be a nice weekend to head north to Leigh Sawmill because on Friday evening Lisa Crawley will be enticing punters with tunes from her debut album.
And on Saturday evening multi-talented folk balladeer Flip Grater will weave some magic as part of her Cookbook Tour.
Or...
Now you know the festive season has really kicked off because Coca-Cola Christmas in the Park will be taking over the Auckland Domain on Saturday evening, and it's just been announced that soulful songstress Hollie Smith will be joining the lineup at this free musical extravaganza.
Pop rock band The Earlybirds are also on the bill, with rapper Young Sid, the cast of hit musical Jersey Boys, Vince Harder, Frankie Stevens and Jackie Clarke, and many more. They'll be belting out their own hits as well as carols, before the jolly red-suited one arrives, and celebratory fireworks are let off.
-TimeOut