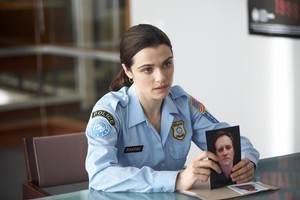 Director Larysa Kondracki takes on the harrowing subject matter of human trafficking and sex slaves in her debut feature film The Whistleblower. Inspired by true events, this hard-hitting thriller is played out in a relatively conventional manner, but driven by a compelling performance from Rachel Weisz.
In 1995, Kathryn Bolkovac (Weisz), a cop from Nebraska, took on a peacekeeping job in United Nations-regulated Bosnia, employed by a private corporate army to train Bosnian police.
After some success with her trainees she is given the job of Head of Gender Affairs, based at the UN, where she's exposed to a thriving sex-trafficking industry.
Kondracki follows the plight of two teenage girls trafficked from the Ukraine and is unforgiving in her presentation of the brutality and indecencies these sex slaves endure. It's clear she wants to shock us, which is most strikingly achieved with the revelation that Bolkovac's colleagues assist in the trafficking of slaves and patronise the brothels where the girls are held.
Bolkovac is stymied and threatened every which way she turns as she desperately works to help these girls and expose those involved.
What's most fascinating is the political perspective, and the actions of those involved in organisations, who elected to cover things up rather than protect the citizens of Bosnia. Kondracki's tone is one of condemnation, an easy stance to take but one which emphasises the horrific tales of sex slaves rather than the wider politics. As a result The Whistleblower tends to melodrama rather than thriller. It's not helped by introducing too many characters, which means it's hard to keep up with who's who and standout characters, like those played by Vanessa Redgrave and David Strathairn, don't receive the attention their roles deserve.
Weisz does an amazing job as she transitions from naive to angry to despairing; it's a heart-wrenching and unrelenting ride she's on.
The Whistleblower is enlightening and intense, but also depressing. As stated in the credits, approximately 2.5 million people are currently being trafficked around the world. No matter how brave Kathryn Bolkovac was, there is little escaping the despairing realisation that it just wasn't enough.
Stars: 3/5
Cast: Rachel Weisz, Vanessa Redgrave, David Strathairn
Director: Larysa Kondracki
Running time: 120 mins
Rating: R16 (contains violence, sexual violence, offensive language and content that may disturb)
Verdict: Rachel Weisz is in stunning form, if you can stomach the subject matter
-TimeOut