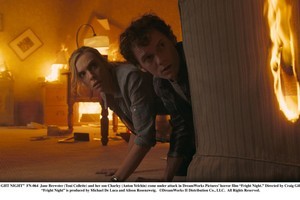 ANTON YELCHIN was born in 1989, not quite four years after Fright Night opened in cinemas and became a cult classic. Now, at 22, Yelchin is starring in the inevitable remake.
"I'd heard of i but hadn't seen it," Yelchin admits. "So I watched it when I read the script for our version."
And?
"I loved it," the actor replies. "For me, that film is about the nature of the horror genre in 1985 more than anything. It's about the transition from classical horror to 1980s horror, represented in a very self-conscious way by the movie itself. So I think it's a very intelligent film, and I really appreciated that about it. And it's campy."
Out here Thursday, the new Fright Night casts Yelchin as Charley Brewster. He's a geek turned cool kid who now hangs with the in-crowd and dates Amy (Imogen Poots), the prettiest girl in his high school. Trouble starts, however, when charismatic stranger Jerry (Colin Farrell) moves to town and, coincidentally, people start to die.
No one but Charley, not even Charley's mother (Toni Collette), seems to notice or care that Jerry might be a vampire.
The situation forces Charley to take matters into his own hands. Among those he turns to for help are Peter Vincent (David Tennant), an ageing "vampire hunter" host of a horror-movie television show in the 1980s version but here re-imagined as a schlocky Las Vegas magician/vampire hunter; and "Evil Ed" (Christopher Mintz-Plasse), the nerdy best friend Charley left behind on his way to popularity.
Yelchin explains that screenwriter Marti Noxon and director Craig Gillespie have crafted a story that echoes the original comedy/horror film, but also updates it and shifts its tone considerably. Noxon is best known for her work as a writer/producer on Buffy the Vampire Slayer, while Gillespie previously directed Lars and the Real Girl.
"I think what we did is, to a certain extent, less campy," Yelchin says, "though there are definitely campy moments. Charley's arc, for an actor and for the audience, is more relatable. It's the story of someone who loses his values, in this case in the hope of getting this hot chick and maintaining some sort of social status, and then, in the face of overwhelming danger and death, has to regain those values and realise what's fundamental to him if he's going to live the rest of his life.
"The original was more about Charley just being freaked out that he's got a vampire next door," he says. "But I do think what is really interesting about this film, in relation to the original, is that it continues that self-conscious look at teens in an age when the genre itself is changing. In this case it's not a transition from classical Hollywood horror to 1980s Hollywood horror, but the position of teens in a time when the cultural landscape is oversaturated with this genre."
Noxon addressed the same idea during a July presentation at Comic-Con in San Diego.
"Marti put it a great way," Yelchin says. "We live in a Twilight world. Even if you don't give a darn about Twilight, you know about it because it's so amazingly huge. And our cultural landscape is saturated with random mythologies of various sorts, not just about vampires, but about horror genres, sci-fi genres, this and that. So how does a teen who's grown up in the Twilight world react when the exact opposite of a Twilight vampire moves in next door - not some suburban, melodramatic, horny vampire teen but a vicious, almost traditional Hollywood vampire that just wants to kill them?"
Born in what was then Leningrad, Yelchin moved with his family to the US in 1989, earning his first critical praise for his performance at age 11 alongside Anthony Hopkins in the 2001 movie Hearts in Atlantis. Since then he has mixed indie films (Alpha Dog, New York I Love You) and big-budget Hollywood productions. Audiences probably best remember him for his 2009 films: as Pavel Chekov in the Star Trek reboot and teenage freedom fighter Kyle Reese in Terminator Salvation.
His upcoming projects continue that trend. Yelchin has wrapped the indie drama Like Crazy, will start the Star Trek sequel next year and is currently shooting Odd Thomas, adapted from noted horror writer Dean Koontz's 2003 bestseller about a mysterious short-order cook who sees the dead.
Hollywood Watch
Fright Night is in cinemas this Thursday.