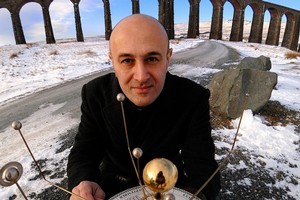 MUSIC
For something quirky and possibly quite mind-boggling, head along to the museum tonight, where an array of musicians, curated by the University of Auckland, will be experimenting with digital music in the nooks and crannies between exhibitions.
Otherwise there's a bunch of album release gigs on this week, including She's So Rad at Whammy and Home Brew's breakaway hip-hop crew @Peace's EP party at Bacco Room, both on Friday.
Rock fans have former Blindspott frontman Shelton Woolright's new band I Am Giant heading this way and Luger Boa are celebrating the release of their second album with a tour of the country.
TV
Is watching the pub quiz at the Beagle (Nothing Trivial, Wednesday 8.30pm, TV One) making you want to upgrade your bank of random facts? TVNZ7 might be able to help out with its month of science and innovation shows, many of which start this week.
The first homegrown version of Underbelly, starring local actors as the criminals many viewers will remember only too well, now starts August 17.
MOVIES
After two weeks of cerebrally enriching films, it seems high time for a bit of light-hearted comedy and romance, and that arrives in the shape of the latest Hangover-style boisterous flick, Horrible Bosses, starring a mixed bag of big names - Kevin Spacey, Jamie Foxx, Jennifer Aniston, Colin Farrell ... and they are just the supporting characters.
There's also Larry Crowne, a charming tale that once again, probably wouldn't be half as good if it wasn't carried by consummate professionals Julia Roberts and Tom Hanks.
And yes, a world ravaged by apes is still frightening, 40-odd years on. Andy Serkis turns primal thanks to some impressive computer-generated imagery and special effects by Weta Workshop. Rise Of The Planet Of The Apes is not another attempt at a remake, instead it tells the story of what came before the 1968 classic.
OR...
Serving as a worthier antidote to the Erotica expo is The Auckland Art Fair in the Viaduct Events Centre from today until Sunday. As well as a chance to have a nosy around all the new developments down in the Viaduct, the Auckland Art Fair will exhibit some of the most exciting artists in New Zealand and Australia and there will be daily panel discussions with interesting characters of the art world.
- TimeOut