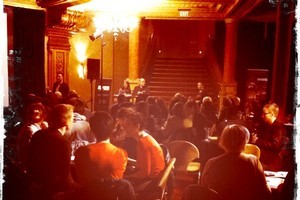 Dropped into the Film Cafe just before the screening of A Separation last night. What a splendid job they've done with the place, which opened on Saturday night with a film-themed pub quiz.
The Civic has always lacked a decent space to sit around and natter between films: a couple of wall niches opposite the box office is about it.
So the Film Café, which has colonised the entire Wintergarden (once a nightspot and later, in the Civic's final days as a 52-week cinema, a drab and characterless second screen) and fitted it out with tables and chairs and bean-baggy things and there's a little area for talks (Florian Habicht was waiting around to do his thing last night but I had to shoot through to the screening).
I adored A Separation - although if they disclosed what happened to the money Razieh was accused of stealing I missed it. Alongside the sublime tradition of art cinema (White Meadows; the films of Kiarostami) Iranian movies have a tradition of socially realist dramas that have their roots in everyday domestic life (remember The Key, which was actually produced as a good-parenting guide?).
This was absolutely electrifying and the beautifully ambiguous ending quite perfect.
New screenings are already being scheduled for the Rialto of Page One: Inside the New York Times, Fire in Babylon and If a Tree Falls (respectively this Saturday at noon and 6pm and Sunday at noon).
I'm a little surprised that the former is exciting such interest. On a journalism group I subscribe to there was some discussion about whether it would appeal to non-journalist audiences. I'm inclined to think that the interest has something to do with the widespread unease about the story unfolding in the UK.
Murdoch's tentacles no longer reach into NZ but questions about the concentration of media ownership and the decline of quality journalism exercise a lot of people here too.
As for Fire in Babylon I am glad to think that it is reaching beyond cricket-lovers. It's really a story of a pushback against colonial masters, with Rasta overtones (Babylon is the Rastafari word for any oppressor but particular colonial Britain). It's fabulous.
The word is that bookings are very busy for Melancholia, The Trip, Nosferatu and Animation for Kids but that overall ticket sales are tracking at the same level as last year which is gratifying for the organisers of a non-profit event.
The first international guests arrive this week. Ti West (director of horror film The Innkeepers) will introduce his film at SkyCity cinema at 8.30pm tomorrow and director Justin Kurzel and lead actor Daniel Henshall from Snowtown will be on hand on Wednesday to introduce their screening that night.
Audiences at the Sunday night screening of Sleeping Sickness apparently got the chance to see the opening of Attenberg in which two young women pash furiously.
Fortunately festival director Bill Gosden was present and knew that Sleeping Sickness opens with a shot of trucks on an African road at night. I'm not sure whether he did an imitation of Albert Finney in The Dresser (STOP! THAT! FILM!") but he tracked down the projectionist and after a slight delay people got to see the right movie.
Right. I'm off to The Kid With a Bike and The Tree of Life. Have a good one.