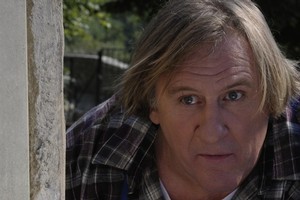 It's not conceived as a companion piece to Becker's last film seen here, Conversations With My Gardener, but his new film has a complementary feel about it, since it also tells the story of an enriching encounter between two unlike characters.
In this case the odd couple are Germain (Depardieu), a barely literate casual labourer in a small French town and the woman of the title (Casadesus, 95 when the film was shot, gives a performance of exquisite elegance and poise).
From the first scene, in which he is ripped off by an employer, Germain comes across as hapless and put-upon. Even his mates at the local bar laugh at his naivete (he thinks Guy de Maupassant is like the Guide Michelin) and it soon emerges that his relationship with his mother (Maurier) - he lives in a caravan in her garden - is vexed, to put it mildly.
In a local park, feeding the pigeons he has befriended and named, he meets the petite, ancient Margueritte, a retired civil servant, who comes there daily to read.
Their shared experience - they're both kind-hearted and a little lonely - transcends the difference of age, class and body mass. They talk, she reads to him and encourages him to read for himself and the man, battered and bruised by experience, gradually blossoms as the boundaries of his life expand
before him.
Those of an austere disposition will surely find the film unpardonably sentimental - certainly it sacrifices the subtle, almost astringent, tone of Conversations in favour of a sunlit view of humanity (and French provincial life). Unsatisfactorily, it is never really explained how Germain, who is only one sandwich short of simpleton status, manages to attract the vivacious Annette (Guillemin), and sketching his troubled past in flashback feels heavy-handed.
But all this melts away when the two of them hold the screen together. Depardieu's work is as good as anything he's ever done and the ending -romantic in the best sense of that word - is fabulous. This is a fine warm way to waste a wet afternoon.
Stars: 4/5
Cast: Gerard Depardieu, Gisele Casadesus, Claire Maurier, Sophie Guillemin
Director: Jean Becker
Running time: 79 mins
Rating: M (offensive language, sexual references) In French with English subtitles
Verdict: Sentimental, romantic, superb.