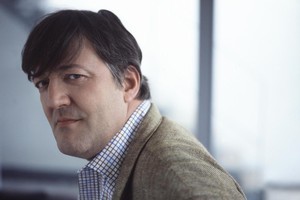 Sir Peter Jackson has cast English actor and comedian Stephen Fry in his Hobbit movies.
Sir Peter said on his Facebook page that Fry - who is writing the script for the Dambusters movie Sir Peter is producing - will play The Master of Laketown in The Hobbit.
The master is described as a deceptive and greedy but smart man who serves as the mayor of the town closest to the Lonely Mountain when Bilbo Baggins and his group arrives.
"In addition to his writing skills, he's a terrific actor and will create a very memorable Master for us," Sir Peter said.
The actors and some of the film crew would take a break in filming next month to get some editing and visual effects work done, he said.
"As we near the end of our first shooting block we are looking at characters featuring in sequences that take place a little later in the story."
Sir Peter also announced the master's conniving servant, Alfrid, would be played by Ryan Gage, an actor in the 2007 film Outlaw.
"Ryan is a great young actor who we originally cast in a small role, but we liked him so much, we promoted him to the much larger Alfrid part," said Sir Peter, who initially cast Gage as Drogo Baggins.
Conan Stevens from American medieval fantasy television programme Game of Thrones, who stands 2.13m tall, will play an Orc called Azog.
The first Hobbit movie is set for release in December 2012 and the second for December 2013.
- NZPA