A dalliance between a Viagra salesman and a sex-addict artist sounds like a recipe for mischief and misadventure. That's exactly what unfolds in Love & Other Drugs reports Des Sampson.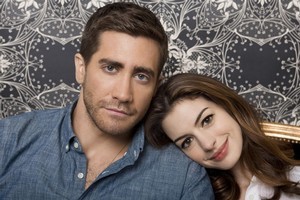 Sex and drugs may be synonymous with rock 'n' roll, but it's rarely the case with mainstream movies. Ed Zwick's latest offering, Love & Other Drugs, is set to change that. It's an offbeat tale about Jamie Randall (Jake Gyllenhaal), a womanising drug rep peddling Viagra, who meets his match in Maggie Murdock, a feisty, sex-mad artist, played by Anne Hathaway.
From their initial fiery encounter, as sparks fly between the duelling pair, it's evident that Love & Other Drugs isn't going to be a straightforward, boy-meets-girl and everyone lives happily-ever-after Hollywood rom-com. Instead, it's a clever, quirky look at the murky pharmaceuticals industry and a poignant portrayal of Parkinson's disease, as Maggie battles with its early onset and seeks solace in a series of casual flings to overcome the heartbreak, frustration and anger of abandoning her first love - art.
"It was so much fun playing a free-spirited girl with such a temper," laughs Hathaway, recalling her highly-charged exchanges with Gyllenhaal. "I'm not a confrontational person so to play someone who isn't afraid to put people in their place, or get scrappy, was great.
"It was challenging though because she's a girl who's putting up a facade to avoid dealing with her real feelings, which is total, abject fear of the future. As a result, it became very hard for me to articulate my own personal feelings while I was filming," she admits. "That really messed with me and meant I had a lot of trouble letting Maggie go after we finished filming."
Another aspect of the character that Hathaway concedes she had trouble with was her promiscuity, and the resultant, numerous nude scenes it entailed, as her onscreen relationship with Gyllenhaal shifts from lust to love.
"It became clear to me and Jake, pretty early on, that we weren't going to be able to have the usual nudity clauses, saying which parts of our bodies could - and couldn't - be shown, if we wanted to make things realistic," reveals Hathaway, blushing at the memory.
"We also both agreed that we found it weird in movies that two people are naked in bed, but she'll have the sheet perfectly arranged over her body and he'll get up, wearing boxers. It's like; 'When does that ever happen in real life?' We decided we didn't want the audience distracted by a lack of authenticity - we wanted to show how it might happen, while honouring the integrity of the story and ensuring it wasn't just gratuitous nude scenes.
"So we went to Ed, the director, and said; 'Okay, you shoot it how you want, but give us final say over the amount of nudity'. But you know what? In the end we cut maybe four seconds out of the entire film - and that was just when the camera lingered a little too long on me," she reveals.
In fact, Hathaway admits she actually had more reservations about portraying someone with Parkinson's than appearing nude in bed with Gyllenhaal.
"I was very worried about unconsciously exploiting the disease or being unauthentic, so I met a lot of people with Parkinson's disease, talked with neurologists, did research on the internet and read almost everything Michael J. Fox has ever written about it," she explains.
"In fact, his advice - which was that when it comes to people with Parkinson's it can't be funny enough - became our motto during filming; we found those words so inspiring and liberating."
Hathaway admits that her research into Parkinson's disease also uncovered an unexpected consequence of the drugs used to treat the condition.
"Apparently, one of the side effects of Parkinson's meds is that it can develop addictive personalities. So, people who are on these medications sometimes become compulsive gamblers or develop sex addiction," she says. "Also, a lot of people told me that their orgasms were a great release for their body - that they relieved stress and tension - so that just became an extra motivation - and reason - for my character, Maggie, wanting sex all the time!"
Consequently, soon after Maggie meets Jamie they're frolicking non-stop in alleyways, broom cupboards and stairwells. Gyllenhaal admits it could have been even more awkward and embarrassing if he hadn't already shared an on-screen tryst with Hathaway in Brokeback Mountain, when they played husband and wife.
"I don't think Annie would have done this movie if she didn't already know me, because she really needed convincing," he admits. "But because we'd worked together and got on so well there was already a level of comfort, familiarity and friendship there. It meant she knew she could trust me and was prepared to put herself in some pretty compromising situations," Gyllenhaal surmises.
"Also, we'd already been semi-naked together in Brokeback Mountain, so it got that boundary out of the way!"
The result of their onscreen chemistry is a heartfelt, hilarious film that Hathaway admits she's incredibly proud of, but isn't about to encourage her family or friends to go rush out and see.
"It's uncomfortable enough being in the audience and knowing everyone's focusing on my naked body, let alone having my family or friends there watching too," she insists, smiling nervously at the prospect of them witnessing her naked romps. "Anyway, this is not a family film, so my family doesn't have to see it!
"I'm not going to lie, being in a movie like this - naked - is not something I plan on ever doing again. But that's not to say I'm sorry I did it, because I'm not," asserts Hathaway. "I mean, usually I have to watch a film three times before I can accept any aspect of it as real, but I've only seen this once and I actually believe in Maggie and Jamie's love story.
"So, the fact that I could connect with her - and their story - is a good sign. But as for my family watching it? Well, they've seen just about every film I've ever made, so I'll let them off the hook if they don't want to see this one," she laughs.
"But I hope everyone else sees it ..."
LOWDOWN
Who: Jake Gyllenhaal and Anne Hathaway
What: Love and Other Drugs
When: Sneak previews Boxing Day, opens at cinemas on New Year's Day
- TimeOut