Rating: 3/5
Verdict: A slick update with a few new ideas, but really more of the same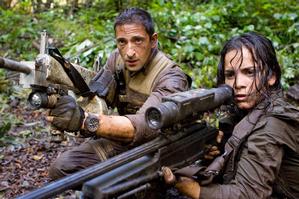 Producer Robert Rodriguez and director Nimrod Antal breathe life back into the Predator franchise with a new cast, new predators, and a new setting offering much bloody action.
This isn't a remake of Arnold Schwarzenegger's original Predator from 1987, it's more of a sequel - the story from the original film is mentioned just once during Predators after this new crew first encounter the orc-like dreadlocked aliens. They're not in Guatemala now - or whatever Latin American jungle it was - but a distant planet where the group of cold-blooded killers from around the globe have found themselves stranded.
Lead by a mercenary called Royce (Adrien Brody) the squad realise they have been dropped into a game park where they are the game, systematically hunted by the aliens.
The first half of the film is full of suspense as the characters try to work out where they are and what they're up against. It's eerie and spooky, and we don't see too much of the actual predators, which helps build anticipation.
But once a few of the humans have been picked off it's game on, and the film quickly becomes less about suspense than it is about action, blood and green fluorescent gore. The predators are menacing, but the more you see them the less frightening they are, and it's up to the humans to throw a few curve balls our way to keep things interesting. Not all of them make sense, including Royce's escape plan.
Willowy Adrien Brody has beefed himself up nicely, bringing brains as well as brawn to his role as the loner Royce. Topher Grace, whose character Edwin appears to be the odd one out among the renegade soldiers, is there to add a few laughs.
It is a more modern and darker story, but not necessarily a more complicated one.
Fans of the earlier Predator flicks will find this a solid addition to the series, but it's hard to kick that been here, hunted that, feeling.
Cast: Adrien Brody, Topher Grace, Laurence Fishburne
Director: Nimrod Antal
Running time: 108 mins
Rating: R16 (violence and offensive language)