Rating: 4/5
Verdict: A sweet, edgy rom-com that'll put a smile on your face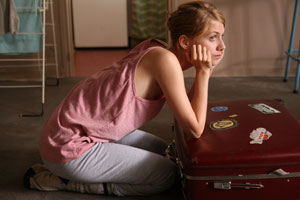 French writer and director Jennifer Devoldere's debut feature is a gentle transatlantic romance. It's a fairly lightweight and simple story, but it does possess two unusual and intriguing lead characters and an engaging performance by Inglorious Basterds' Melanie Laurent.
Paris based Chloe (Melanie Laurent) is an eccentric loner with a phobia of telephones and a naive and idealistic view of love, inspired by the movies. She's intelligent, and manages to succeed at her job as a journalist by writing articles for her colleagues in exchange for them making phone calls for her.
Jack (Justin Bartha) is a depressed American with an aversion to travelling who finds himself on holiday in Paris after he wins the trip in a competition.
Recently dumped by his girlfriend, his luggage has gone missing and, since he's a reluctant tipper, the hotel staff are making life even more difficult for him.
Chloe has also lost her luggage returning to Paris from a work trip, and by accident ends up with Jack's suitcase. On close inspection of its contents, she falls in love with the man she imagines owns this luggage and desperately goes about trying to find him.
If you're hoping for beautiful vistas of Paris, then you're out of luck.
Devoldere doesn't allow the city's romantic reputation as The City of Love to impact on this love story. Instead she uses the location in an ironic way, placing most of the action inside generic spaces such as Jack's hotel Chloe's apartment and office.
Amusingly, when Jack does get out to sightsee, Devoldere has him following The Da Vinci Code trail around Paris, again happy to break down the romantic idea of Paris for a less sophisticated truth.
This is a film for those who believe love is all about timing, but are not in a rush to find it.
You can tell just from the title of the film and how this very standard plot unfolds that these two are going to end up together.
It's not about "if", but about "when", and yet it's a pleasure to watch the graceful and charming Chloe and the wallowing Jack chase each other back and forth across the Atlantic.
Cast: Melanie Laurent, Justin Bartha, Billy Boyd
Director: Jennifer Devoldere
Running time: 80 mins
Rating: M (Sex scenes and offensive language)