Rating:
3/5
Verdict: Well-meaning but formulaic American melodrama.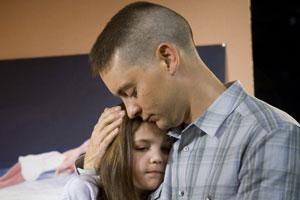 Only those who have seen and admired the tense family dramas of Danish director Susanne Bier (Open Hearts, After the Wedding and 2006's Brothers of which this is a remake) may care about how much has been lost in translation here. Her actors seem to speak from the heart rather than a script; this well-meaning film's version of the story manages to be both overstated and bland.
Despite the heavy-duty acting talent, everyone seems to be playing a type rather than a person. The film becomes a worthy tribute to the stress-disordered veterans of the wars in Iraq and Afghanistan but in the process it's drained of the intense dramatic life that distinguished the original.
The brothers are Sam (Tobey Maguire) and Tommy (Jake Gyllenhaal) Cahill, respectively the family's hero and bad apple: Sam, married to his high school-cheerleader sweetheart Grace (Natalie Portman) with two cute daughters, is packing for his second tour fighting the Taleban; Tommy's just out of prison after a three-year stretch for armed robbery.
When Sam's chopper goes down over Kandahar and he's presumed dead, the relationship between Grace and Tommy takes a surprising turn. She never much liked him - an attitude shared by the brothers' Vietnam-vet dad (Sam Sheppard, one of the cast's most grievous cliches) - but gradually the two begin to draw comfort from each other in their very different senses of loss.
And when Sam comes home - after some unspeakable experiences that we, but not they know about - it portends some serious family meltdown, though not quite for the reasons that we might expect.
Jim Sheridan (My Left Foot, In America) is plainly a director of restraint and grace and his film is certainly more faithful to its source material than many American remakes of European films. Yet even when it's being explosively dramatic - and Maguire does a good, wild-eyed, scenery-chewing job of a man corroding from the inside out - it feels somehow inert.
It's left to two young girls playing Sam and Grace's daughters to give the most affectingly authentic performances in the whole movie.
Cast: Tobey Maguire, Jake Gyllenhaal, Natalie Portman, Sam Sheppard
Director: Jim Sheridan
Running time: 110 mins
Rating: M (violence, offensive language)